Samosas are an authentic snack in India but nowadays they are a worldwide snack. Everybody likes them. There are many varieties of samosas in the market like cheese samosa, peas samosa, noodles samosa, even mac n cheese samosa but the taste of potato samosa is an all time favorite. Today I made potato samosa with my tangy twist. My potato filling is different from the regular ones. You can see the outer layers which makes my samosas more beautiful and special. I will explain everything in my recipe in a very simple way to how you can make these layers on your samosas and make them different. So guys, let's make them and enjoy them with our evening tea….
Tangy Ingredients
1 ½ cup white flour
4 medium sized boiled potatoes
1/2 cup boiled peas / frozen peas
1/2 cup diced cottage cheese
2-3 tablespoons finely chopped cilantro
1-2 chopped green chilies
2 tablespoons salt
1/2 tablespoon red chili powder
1/4 tablespoon ground black pepper
1/2 tablespoon coriander seeds
1/2 tablespoon cumin seeds
1/2 tablespoon roasted cumin powder
1/4 tablespoon garam masala
1/2 tablespoon pomegranate powder
1/2 tablespoon dry fenugreek leaves
1/2 tablespoon carom seeds
Vegetable oil
Cooking Steps
How to Make a Dough
First of all put white flour in a mixing bowl, add 1 tablespoon of salt, 1/2 tablespoon of carom seeds (crushed with hands), 3 tablespoons of vegetable oil, mix well with a spoon.
Then using lukewarm water, knead a tight dough.
Now cover it and let it sit for 2 hours.
---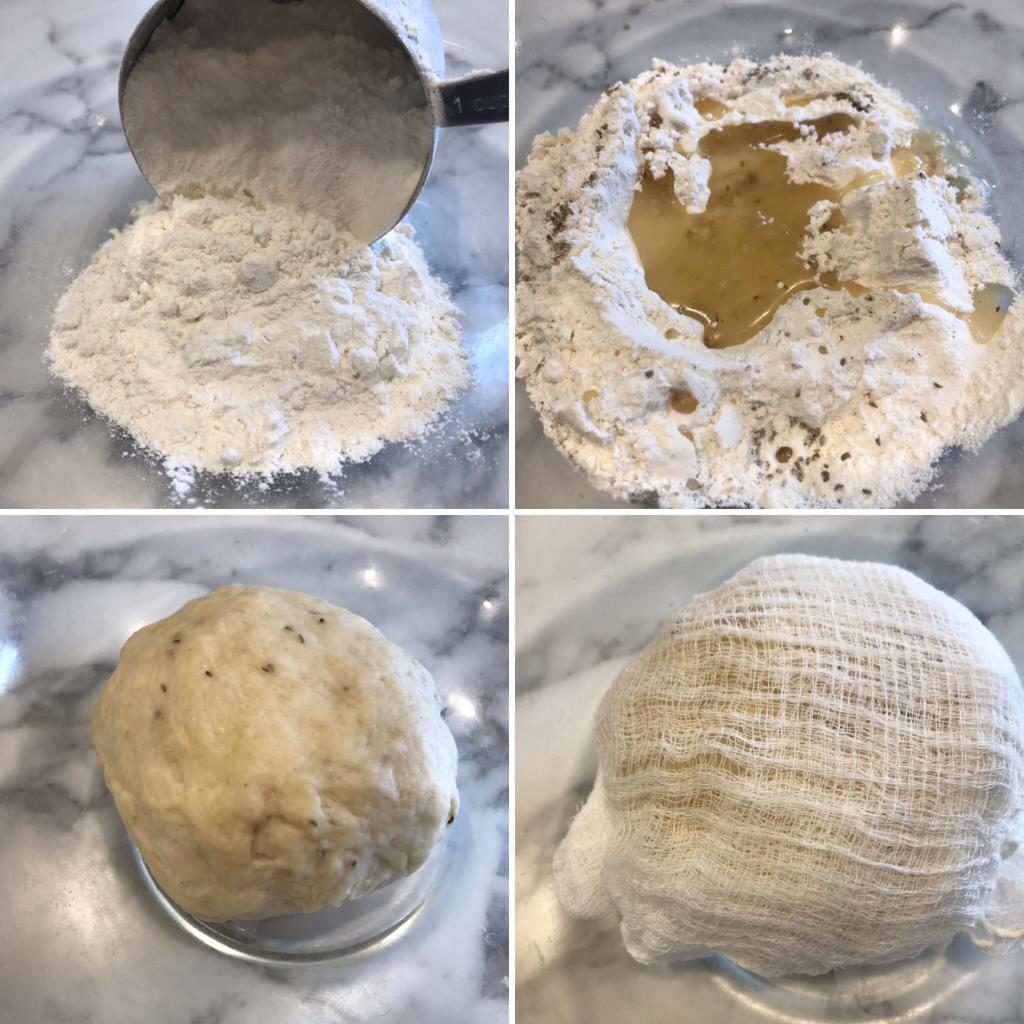 ---
How to Prepare Filling
For the filling, take 4 medium sized boiled potatoes, dice them in small pieces as shown in the picture.
Now heat 2-3 tablespoons of oil in a pan on medium.
Add 1/2 tablespoon of cumin seeds, coriander seeds, finely chopped green chili, 1/2 tablespoon of salt, red chili powder, ground black pepper, garam masala, pomegranate powder, dry fenugreek leaves (crushed with hands), saute all for 1 minute using a spatula.
Then add the diced boiled potatoes, diced cottage cheese (in small pieces), boiled or frozen peas, finely chopped cilantro, mix them well and saute for 3-4 minutes on medium heat.
Now put it on a plate and set it aside to cool.
---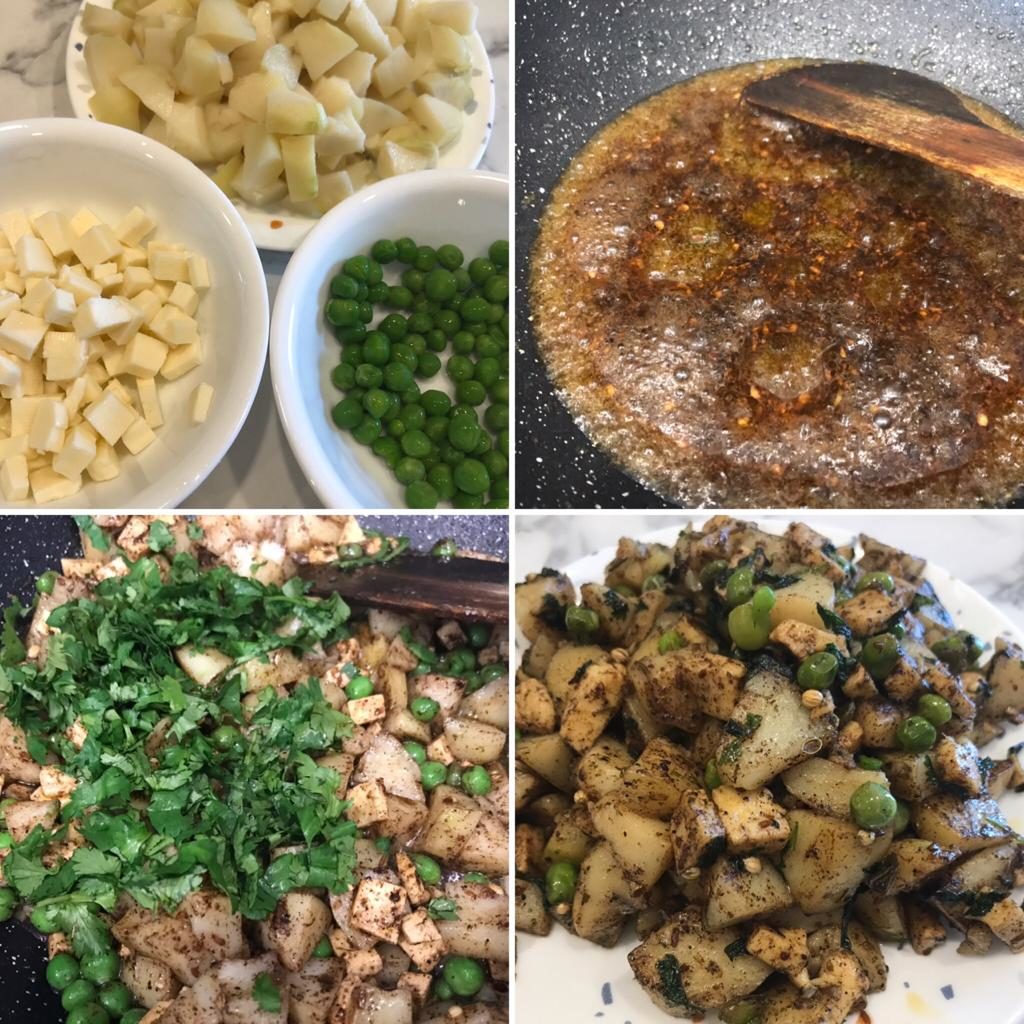 How to Make Samosa
Now make balls from the dough.
Take 1 dough ball, apply 2-3 drops of oil, then flatten it with a rolling pin. You should make a very thin round flatbread.
After that, cut it in the middle and divide it into two parts.
Now make vertical cuts on one of them.
Then apply water on the edges with the help of your finger.
Now put another half portion over it, press their edges with your fingers and seal it.
Then roll it again 2-3 times with your rolling pin.
Then apply water on the half portion of the flattened side and close those sides by pressing them with your finger and make it like a cone.
Now fill it with 2 tablespoons of filling and close it from the edges using water. Here, your samosa should be sealed on all sides.
Next heat the oil in a deep pan on medium heat. You should use more oil to deep fry your samosas.
Now deep fry your samosas in batches on low heat until golden brown in colour. It takes 20-25 minutes for one batch and you should fry 3-4 samosas in every batch.
Continuously stir them very carefully with a spatula.
Wow, your yummy samosas are ready to eat.
Serve them hot with tamarind sauce as well as mint sauce.
---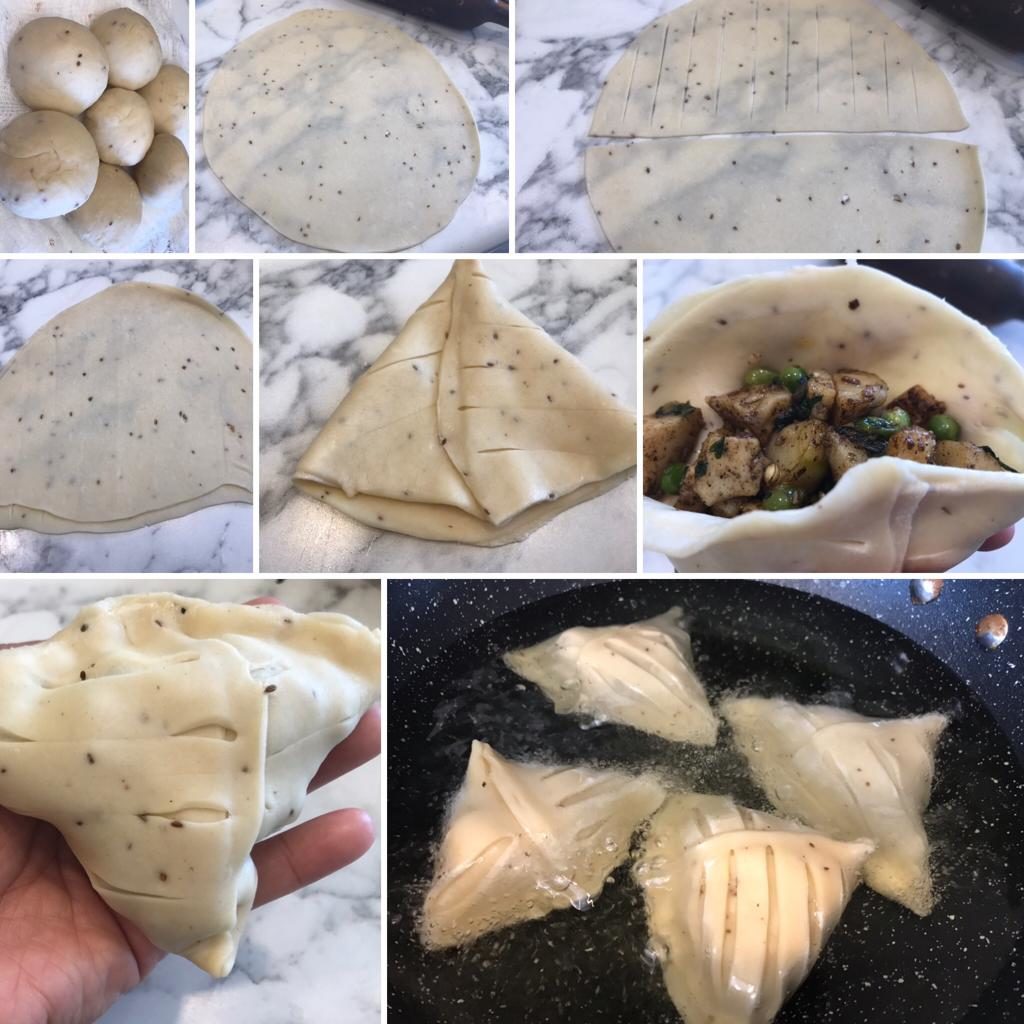 Tangy Suggestions
If you have leftover chickpea curry, then you can add it and make samosa chaat at home. In this samosa chaat you should add some chopped onions, yogurt, tamarind sauce, mint sauce and sprinkle some chopped cilantro over it, it would be yummmm….