I think there should be no need to introduce this dish because it is a world famous dish and everybody's favorite. I know in India everyone has their favorite place for these. Likewise my husband's and my favorite place is in Patiala (India), near Shera Wala Gate. Today, when I was making this dish, it reminded me of our beautiful memories. A couple of years back, when we were in India, once a month we used to visit there in the morning and enjoy ourselves. That place was very small and sometimes we had to wait in a queue for our turn. Today I will share the recipe of restaurant style instant bhature. You can make fluffy bhatura with this recipe. Let's have a look….
Tangy Ingredients
2 cups white flour
2 tablespoons semolina
1 cup carbonated water (soda water)
1 tablespoon salt
1/2 tablespoon baking powder
Vegetable oil
---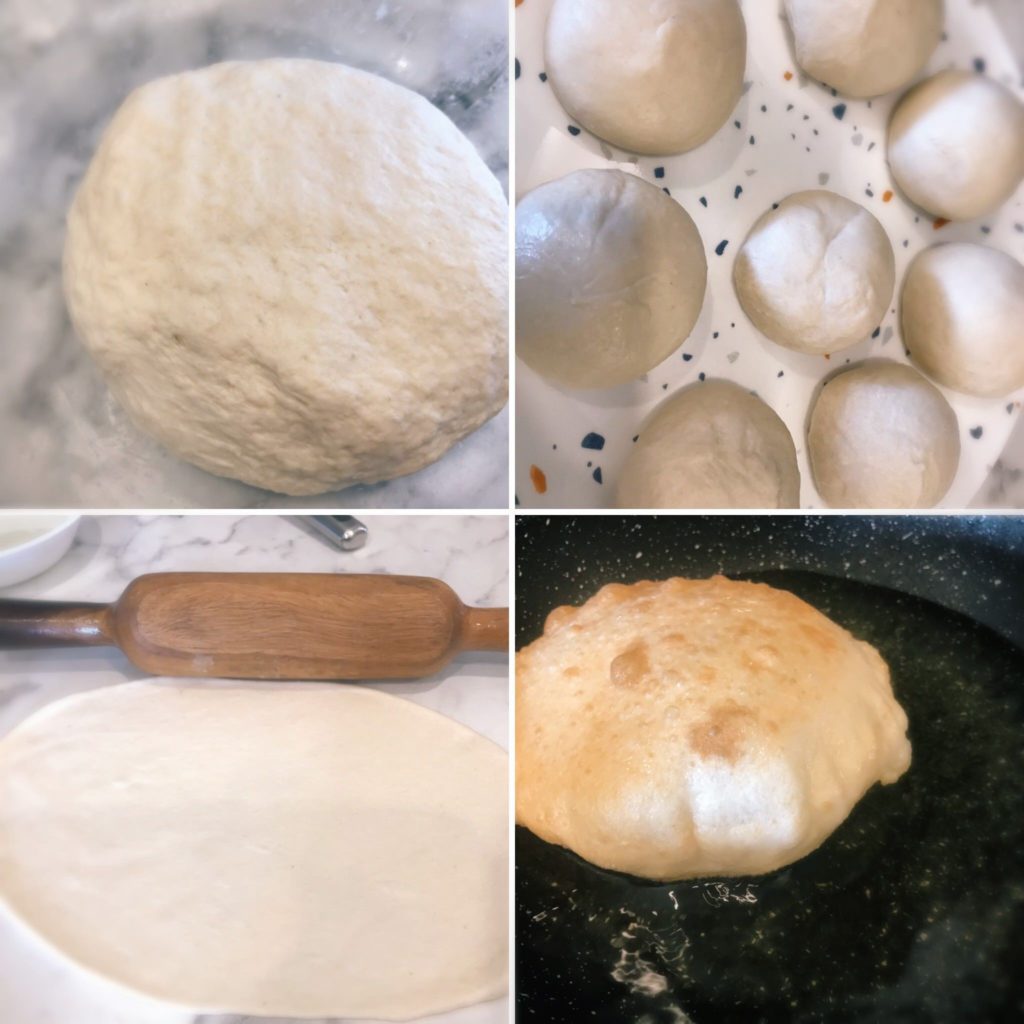 Cooking Steps
First of all soak the semolina in ½ cup of warm water for 10 minutes.
After that it becomes soft.
Now put white flour in a mixing bowl, add soaked semolina, salt, baking powder, 2-3 tablespoons of vegetable oil and mix it well with a spoon.
Next add soda water in batches and make a dough.
Knead it well with your hands for 10-12 minutes. Dough should be soft & smooth and there should be no lumps.
Cover it with a kitchen towel and rest it for 10 minutes.
After 10 minutes knead it again for 2 minutes and make the dough balls.
Now grease your kitchen counter with oil and make flatbreads on it with a rolling pin. Here if you use dry flour for making them then the bhaturas couldn't be fluffy because there must be some moisture for making fluffy bhatura.
You should use oil for making them and the flatbreads should not be very thin because you want them fluffy.
Now take 3-4 cups of vegetable oil in a deep pan and heat it on high.
Then fry those flatbreads in hot oil until golden brown. Another important thing is that if your oil is not hot then your bhaturas will not be fluffy, because hot oil makes them fluff up.
Wow, your balloon-like bhaturas are ready. Remove them from the oil and serve them hot with chickpea curry. It will be so yummy.
Tangy Suggestions
Take 4 tablespoons of tamarind pulp, add ½ cup of water and mix it well. Then add sliced onions and make a tangy onion salad. Serve it with these chole bhature.