If you think about making cake, it means you need a lot of time as well as many ingredients. So some people drop the idea of making cake. No worries, I am here for you with a quick chocolate cake recipe. My chocolate cake recipe is very simple, easy and yummy. Everybody will love this delicious cake. This is prepared with kids' all time favorite oreo cookies. You can make this yummy cake within 10 minutes. I made this cake on my brother's B'day. During this lock down period, we couldn't celebrate together and I had decided to make a B'day cake. But that day I didn't have many ingredients and we couldn't go out. Then I found Oreo cookies in my pantry area and I made this chocolate cake and celebrated my brother's B'day. So guys let's make it quickly…
Ingredients
13-15 oreo cookies
Granulated sugar
1 cup milk
1 tablespoon baking powder
1/2 cup cocoa powder
2-3 tablespoons butter
Dark chocolate
1/2 cup cream
Icing sugar
---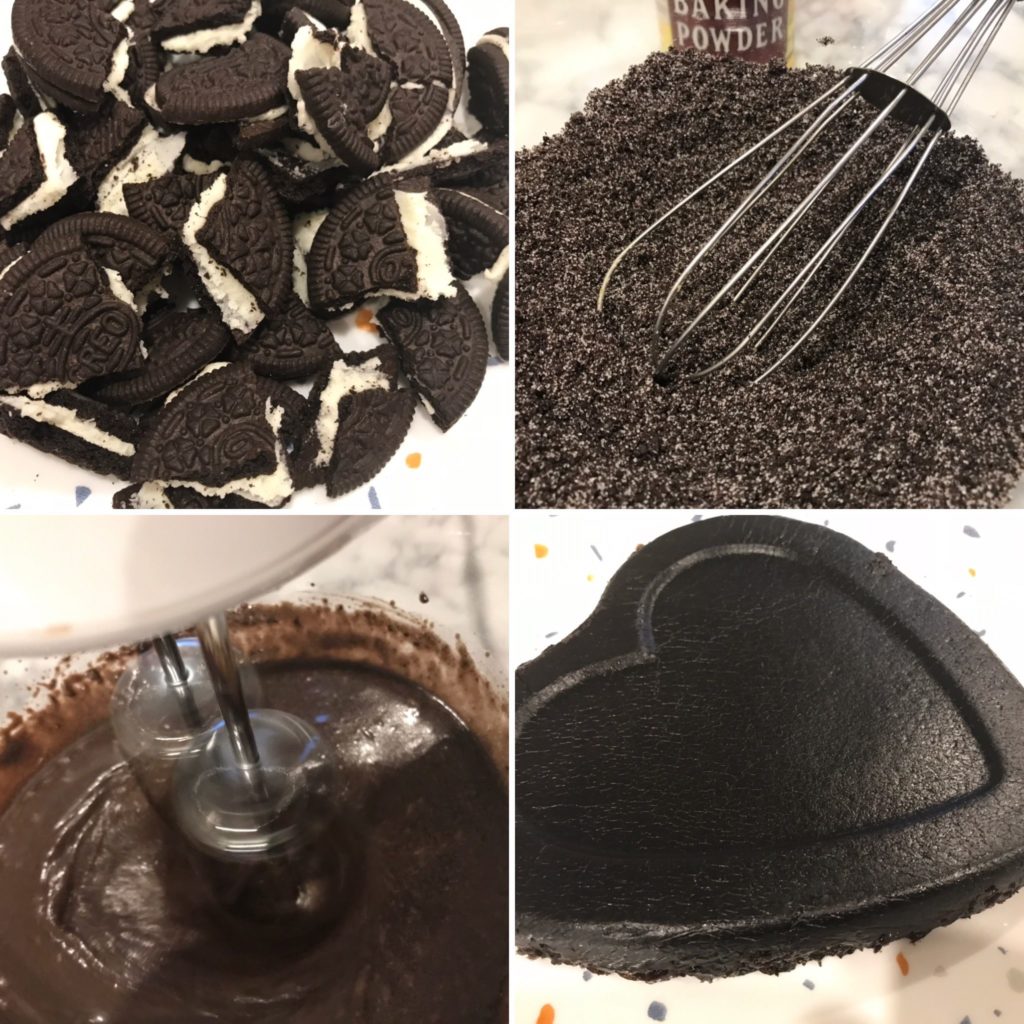 Cooking Steps
First crush all the cookies by hand.
Then put them in a blender.
Add 3 tablespoons sugar and 1 tablespoon baking powder.
Blend it for 1 minute and make a fine powder.
Put this cookie powder in a mixing bowl.
Add 1 cup of milk and 4-6 tablespoons of maple syrup, blend it with a hand mixer for 2-3 minutes. ( If you don't have maple syrup then you can skip it.)
Now grease your microwave safe cake pan or baking pan with oil or butter.
Pour this mix into a greased pan and tap this pan twice to settle the mixture.
Now microwave it for 5 minutes.
After 5 minutes take it out and set it on for your kitchen counter for 10 minutes.
In the meantime you can make chocolate frosting. For this, take 6-7 pieces of dark chocolate, add 1/2 cup of cream, microwave it for 2-3 minutes.
Then add 1/2 cup of cocoa powder, and 2-3 tablespoons of sugar and butter.
Blend it well for 3-4 minutes with a hand mixer. Your frosting is ready.
Now remove your yummy cake from the pan and put it on a plate.
Pour the chocolate frosting over the top of the cake and spread it with a spreader or butter knife.
Decorate with some oreo cookies and sprinkle some icing sugar over it.
Your delicious cake is ready for the celebration.
Suggestions
If you don't want to make any frosting then you would eat this cake with your favorite flavored ice cream. It would be yummm.