Hi guys! Today I am here with very delicious and mouth watering DONUTS. Truly, my recipe of donuts is very simple and easy. You'll notice there are no eggs. We know that kids love donuts. Before lock-down we had a B'day party for my elder girl at our place and we also ordered multi flavored donuts from Tim Horton's. Every kid was excited to see donuts and they enjoyed them a lot. After the party, my daughter asked me, " Mama, can you also make them in your kitchen?" I said "Yes, one day I will make them for you". Last night while we were watching B'day pics she suddenly remembered. So today I made these multi flavored donuts for my munchkin. She loves eating them and every half hour she exclaims, "They are soooo yummy",…lol. So guys let's enjoy my recipe of delicious donuts….
Ingredients
1 ½ cups white flour
1/4 cup milk
2 tablespoons unsalted butter
1 tablespoon yeast
1/4 cup granulated sugar
1 tablespoon salt
1 tablespoon vanilla extract
Vegetable oil
1/2 cup cream
50 g dark chocolate
50 g white chocolate
Icing sugar
---
---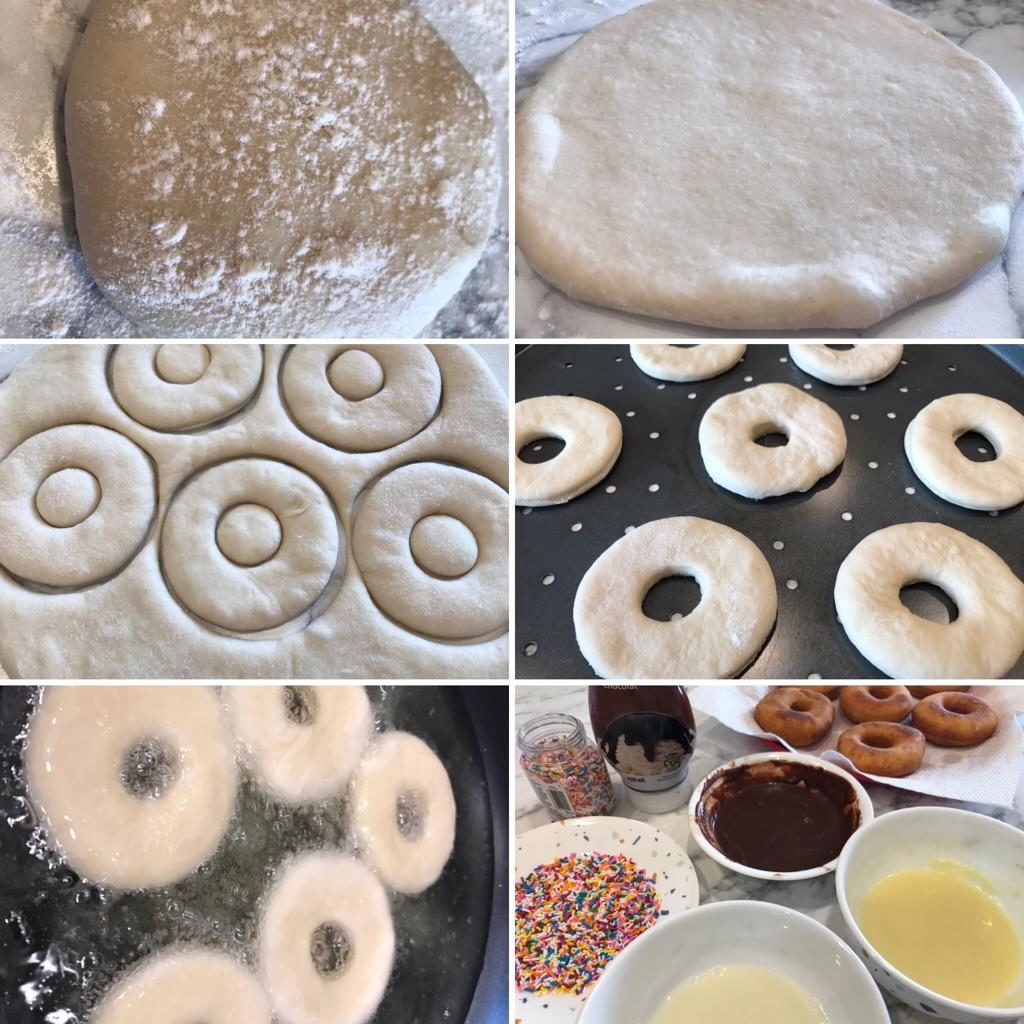 Cooking Steps
First put 1/4 cup of milk in a bowl, add 1/8 cup of water and 2 tablespoons of unsalted butter,mix it well and microwave it for 1 minute.
Now put 1 ½ cups of white flour in a mixing bowl, add 1 tablespoon of instant dry yeast, 1 tablespoon of granulated sugar, 1 tablespoon of salt,mix it well.
Then add buttery milk & 1 tablespoon of vanilla extract and make a soft dough. Knead it well for 5-6 minutes with a hand mixer on medium.
Cover it tightly with cling wrap and let it rise until doubled or 2-3 hours.
Now put your saggy dough onto a floured workplace.
Roll it out ½" thick with a rolling pin.
Now cut it into donuts with a donut cutter or you can use one large and one small sized lid of any jar.
After that, cover your donuts with cling wrap and let them rise for 20-30 minutes at room temperature.
Now heat the oil in a pan.
Fry the donuts in the oil on medium heat only until golden brown. Do not use high heat.
Now put all the donuts on a paper towel and set aside to cool.
At this time, you can prepare your frosting.
Put the pieces of dark & white chocolate Into two separate bowls.
Then add 1/4 cup of cream in each and microwave them for 30 seconds.
Mix it well with a spoon and your frosting is ready.
Now put ½ cup of icing sugar in a bowl, add 1 teaspoon of vanilla extract and a little bit of water and make liquidy icing.
Dip all the donuts one by one in the liquidy icing and with a fork you can apply icing over it.
Then glaze your donuts with chocolate and white frosting according to your choice and decorate with sprinkles.
You will have noticed that the aroma of these delicious donuts has spread through your house. Enjoy them and make your kids happy.
Tangy Suggestions
You can keep the leftover donuts in the refrigerator and eat them the next day. Before eating you should microwave them for 30 seconds and refresh their softness.
Let your kids help you decorate the donuts!