Hey guys! Today's recipe is very quick and yummy. It needs a few ingredients. Actually it is a good idea to start veggies for your kids. Kids love mozzarella cheese. My daughter loves these sandwiches. Actually in her sandwich I always used to put grated vegetables instead of chopped ones. Sometimes, we don't have much time and everybody wants to eat when they're having tea in the evening. They are in a rush and we are not sure what to make in a hurry. These sandwiches are perfect for that situation and everybody would love them. The ingredients are easily available in your refrigerator. So let's start making these yummy and delicious sandwiches…..
Tangy Ingredients
Bread slices
1/2 cup mayonnaise
1/2 cup grated mozzarella cheese
1/2 cup butter
3-4 tablespoons chopped green pepper
3-4 tablespoons sliced cabbage/ lettuce
3-4 tablespoons chopped onion
1 chopped green chili
1/2 tablespoon salt
A pinch of ground black pepper
1 teaspoon chaat masala
---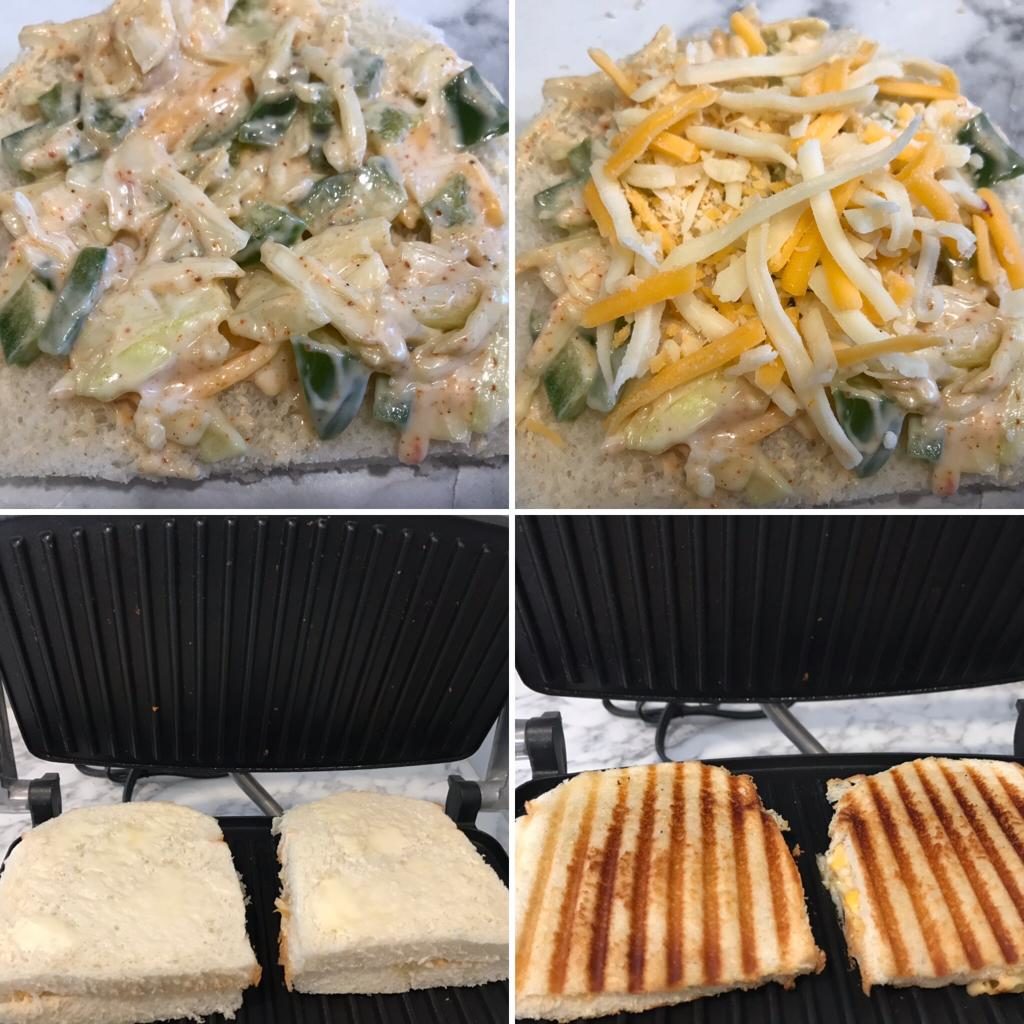 Cooking Steps
First put 1/2 cup of mayonnaise (you can use any flavour) in a mixing bowl, add salt, black pepper, chaat masala, chopped green chili, mix well with a spoon. If you make it for kids then you can skip the green chili.
Add chopped veggies of your choice. Make sure that for 1/2 cup of mayonnaise you add 1 cup of veggies.
Mix it well with a spatula.
Next remove the crusts of all the bread slices.
Now take a slice, spread 2 tablespoons of the mixture on it with a spoon.
Then sprinkle 1 tablespoon of grated mozzarella cheese over it. You can add more mozzarella cheese if you want it more cheesy.
Now place another slice over it, press it gently with your hands.
Then use a butter knife to spread butter over it.
Place it on a preheated grill machine or Panini Grill (which can heat).
Grill it for 2-3 minutes or until it becomes crunchy and golden brown.
Here you go, your cheesy sandwiches are ready. Serve them hot with tea or coffee.
Tangy Suggestions
You can make them when someone comes unexpectedly to your place; quickly chop the available veggies, add mayonnaise & cheese and grill your sandwiches!