This curry is an authentic Indian dish called RAJMA and everybody loves it. A combination of rajma with boiled rice would be yummy. It takes time but it's worth it. This dish has a very important place in my life because for my first meeting with my husband, I prepared this delicious dish with rice, he ate it and said wow! It is so yummy. So, today I am going to share one of my favorite recipes, Rajma…..
Tangy Ingredients
1 cup red kidney beans (rajma)
2 onions
2 tomatoes
1 garlic clove
1 small piece of ginger
1 green chili
3-4 tablespoons vegetable oil
1 ½ tablespoons salt
1/2 tablespoon red chili powder
1/2 tablespoon turmeric powder
1/2 tablespoon garam masala
1/2 tablespoon coriander powder
---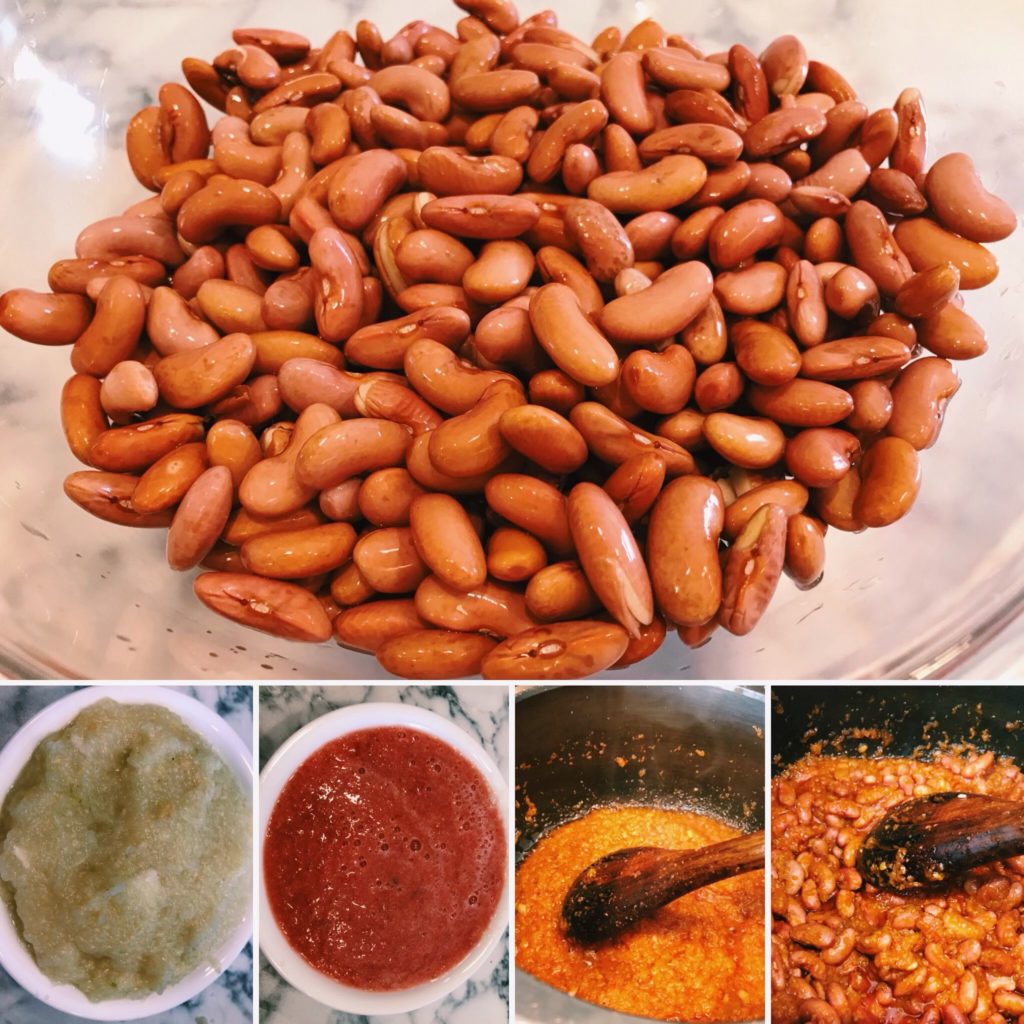 Cooking Steps
Take 1 cup of red kidney beans, wash them well. Then add 4 cups of water and soak them overnight or 5-6 hours.Soaking helps to make them soft.
Now cut the onions as well as the garlic into small pieces and make a paste together in the blender by adding some water as required.
Then take the tomatoes, green chili and the small piece of ginger, cut them in small pieces and make a paste together by adding water as required.
Next put 3-4 tablespoons of vegetable oil in a pressure cooker or an instant pot and heat it.
Oil should be hot when you put the onion-garlic paste in it and you should hear it sizzling..
Saute until it turns golden brown,
Now add the tomato, ginger and green chili paste and saute until the oil starts separating.
Then add all the spices like salt, red chili powder, turmeric powder, garam masala, coriander powder and saute for 1 minute.
Now add 1/2 cup of water, stir it, cover it and saute for 2 minutes on medium.
After that you can see all the oil will be separated and it turns red.
Then add the soaked red kidney beans along with the soaking water and mix it well with a ladle.
Now cook this in a pot or pressure cooker until soft but not mushy.
For the instant pot, cook it on high pressure for 20 minutes and wait for it to release pressure naturally.
For the pressure cooker, cook it for 15 minutes on medium heat with vent weight and wait for it to release pressure naturally.
Now your delicious kidney beans are ready to eat. Serve them hot with rice or flatbread.
Tangy Suggestions
There is a suggestion for making it restaurant style, you can add 2-3 tablespoons cream and mix it well.
You can garnish this with cilantro leaves.