This is a very famous snack in Indian weddings. Cottage cheese is dipped in batter and deep fried in vegetable oil. To enhance the taste we are going to add some spices. These are famous as PANEER PAKODA. There is a very common recipe for these fritters but everybody makes them differently according to their taste. I would like to add some tangy flavor to it. In Indian marriages, you must serve these fritters as an essential snack with tea or coffee. There are many kinds of fritters like potato, cauliflower, spinach, eggplant, fenugreek, etc. but cottage cheese is liked by everyone. Let's make them according to my taste….here you go…..
Tangy Ingredients
150 g cottage cheese
1 cup chickpea flour
2 tablespoons corn flour/ rice flour
1 tablespoon ginger garlic paste
1 ½ tablespoons salt
1/2 tablespoon red chili powder
1/4 tablespoon turmeric powder
1/2 tablespoon garam masala
1/2 tablespoon chaat masala
1/2 tablespoon roasted cumin powder
1/2 tablespoon pomegranate powder
1/4 tablespoon dry fenugreek leaves
1 pinch of orange food colour
---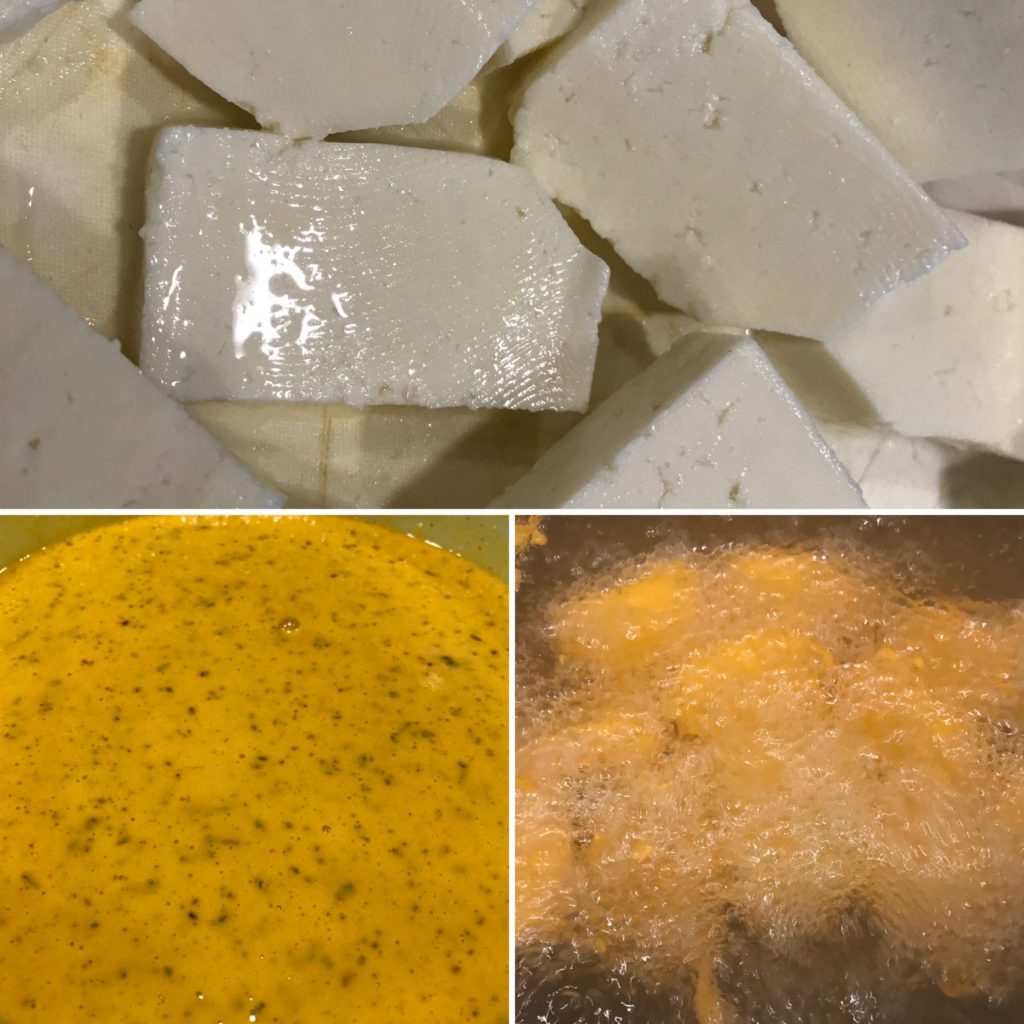 Cooking Steps
Cut 150 g of cottage cheese into small pieces as shown in the picture. Put them in a mixing bowl.
Then add red chili powder, garam masala, turmeric powder, cumin powder, pomegranate powder, chaat masala, dry fenugreek leaves and toss well. Put aside for 5 minutes.
Next put chickpea flour in another mixing bowl and add corn flour/ rice flour, and salt as well as a pinch of orange food colour.
Now add water as required to make a thick flowing batter without lumps. Probably 3/4 cup of water will be required or you can add more if you need.
Stir it well for a while with a whisk.
After that, dip all the pieces of cheese in the batter and coat them very well with the batter.
Then deep fry all these coated pieces of cheese in a hot vegetable oil until it turns golden brown.
Remove and spread them on a paper towel with a frying spoon.
Sprinkle some chaat masala over it.
Your yummy cheese fritters are ready.
Tangy Suggestions
If you are going to plan any get together party with your friends then you must try these fritters and win everyone's heart.