Hello friends! Today I am here with a very special and one of my favorite dishes, vegetable BIRYANI. My recipe for veg biryani is famous in my family, with friends as well as relatives. It is full of various flavors. I use lots of veggies and whole spices instead of the ground form which gives a very special flavor to my biryani. I also added some cashews in this recipe that enhance the richness and make it royal. One more important thing in my recipe is that I always use basmati rice. I will explain how to cook the rice for biryani. There are many ways to make this dish, e.g. in restaurants, they make it in a special pot called a haandi and some of them seal the pot with a layer of dough on the edges. It is very hard to make it like this in your kitchen. I am going to make it in a pan which is the easiest way and everybody can try this. And trust me guys you will experience the same taste as in restaurants. Follow every step of my recipe and you can make it yummy as in the picture. So, let's have a look at how to make a vegetable biryani….
Tangy Ingredients
1 cup rice
2 onions
2-3 florets cauliflower
1 carrot
1 potato
1/2 green pepper
1/2 red pepper
A handful of green beans
1 cup of cilantro leaves
1-2 green chilies
50 g cottage cheese
1 cup yogurt
2 tablespoons salt
1/2 tablespoon red chili powder
1/2 tablespoon turmeric powder
1 teaspoon garam masala
1 tablespoon biryani masala
1/2 tablespoon ground black pepper
1-2 small cinnamon sticks
1 small green cardamom
1-2 black cardamom
2-3 cloves
1 bay leaf
1/2 tablespoon cumin seeds
1/4 tablespoon coriander seeds
1/2 tablespoon roasted cumin powder
1 tablespoon dry fenugreek leaves
3-4 tablespoons roasted cashews
4-5 tablespoons clarified butter (Ghee)
Cooking Steps
How to Cook Rice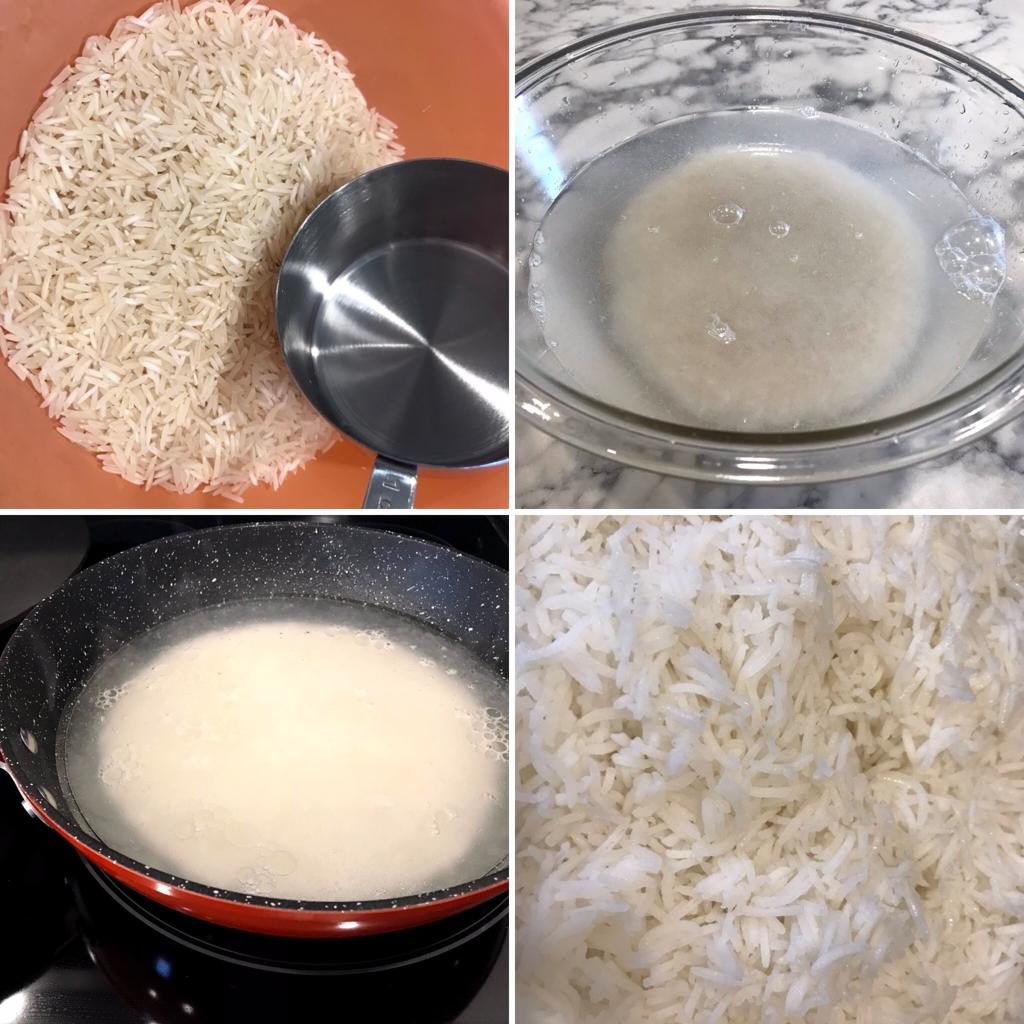 First wash the rice 2-3 times and soak it in water for 15 minutes.
Then drain the water.
Now put 6 cups of water in a pan, and heat it on high.
Add 1/2 tablespoon of salt and 1 tablespoon of vegetable oil, mix it well and boil it.
Then add 1 cup of soaked rice in it.
Cook it on high heat for 6 minutes. Do not cover the pan.
After that, strain it in a big strainer and put it on a plate. Set it aside on the kitchen counter for later use and do not cover it.
How to make Fried Onions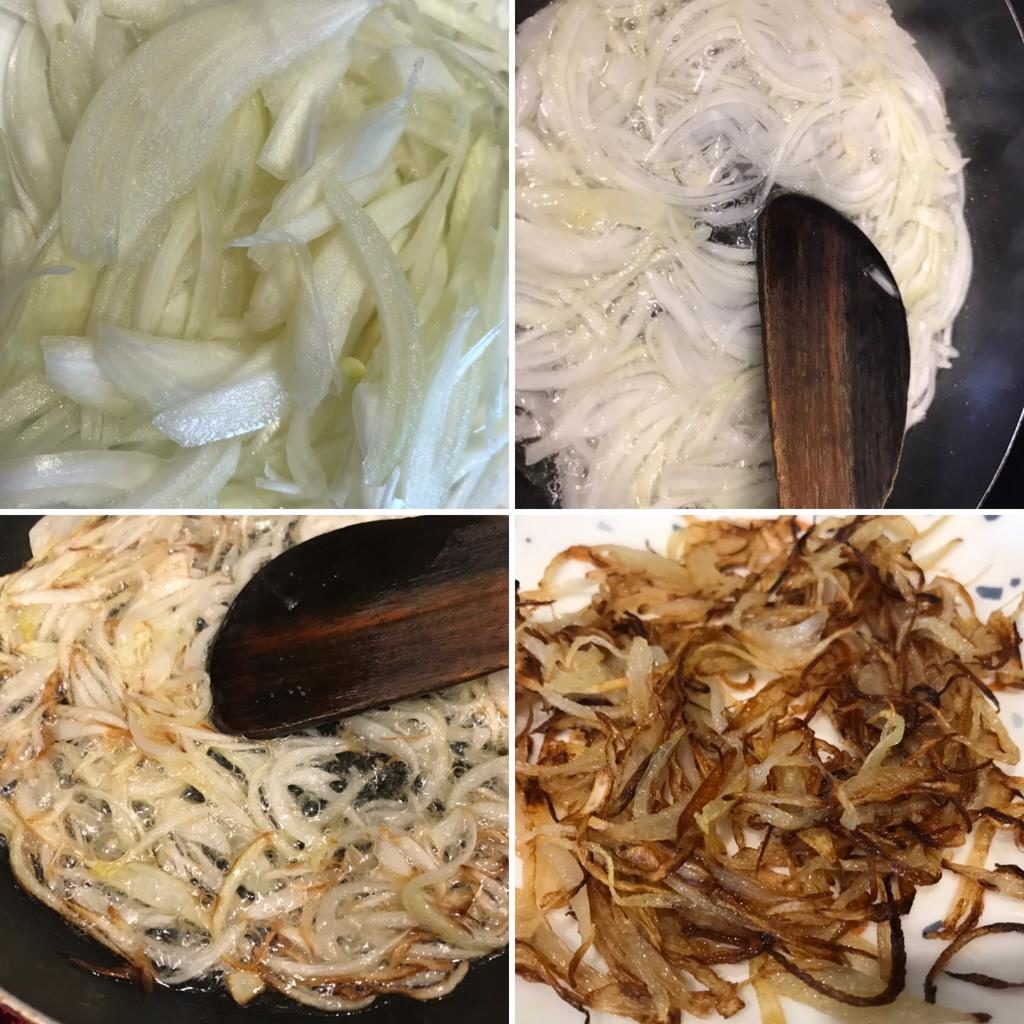 Take 1 sliced onion as shown in the picture.
Deep fry it in vegetable oil on medium heat until golden brown in colour.
Put it out on a kitchen towel for later use.
How to Marinate the Vegetables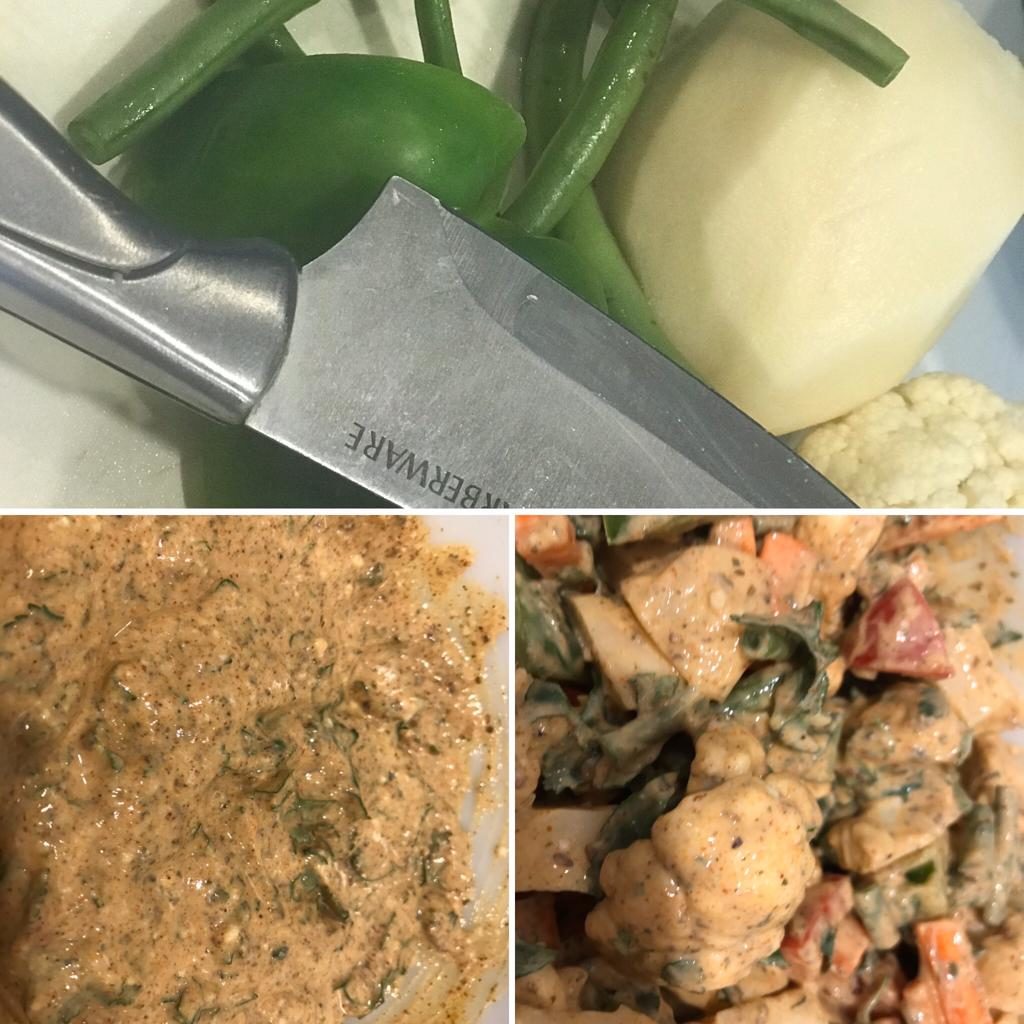 Now dice all the vegetables.
Then put 1/2 cup of yogurt in a mixing bowl, add 1 tablespoon of salt, 1/2 tablespoon of red chili powder, garam masala, turmeric powder, biryani masala ( if you don't have it then you can also use chana masala ), black pepper, dry fenugreek leaves, roasted cumin powder, 2-3 tablespoons of chopped cilantro leaves.
Mix all together with a big spoon and keep refrigerated for 1/2 an hour.
How to prepare Biryani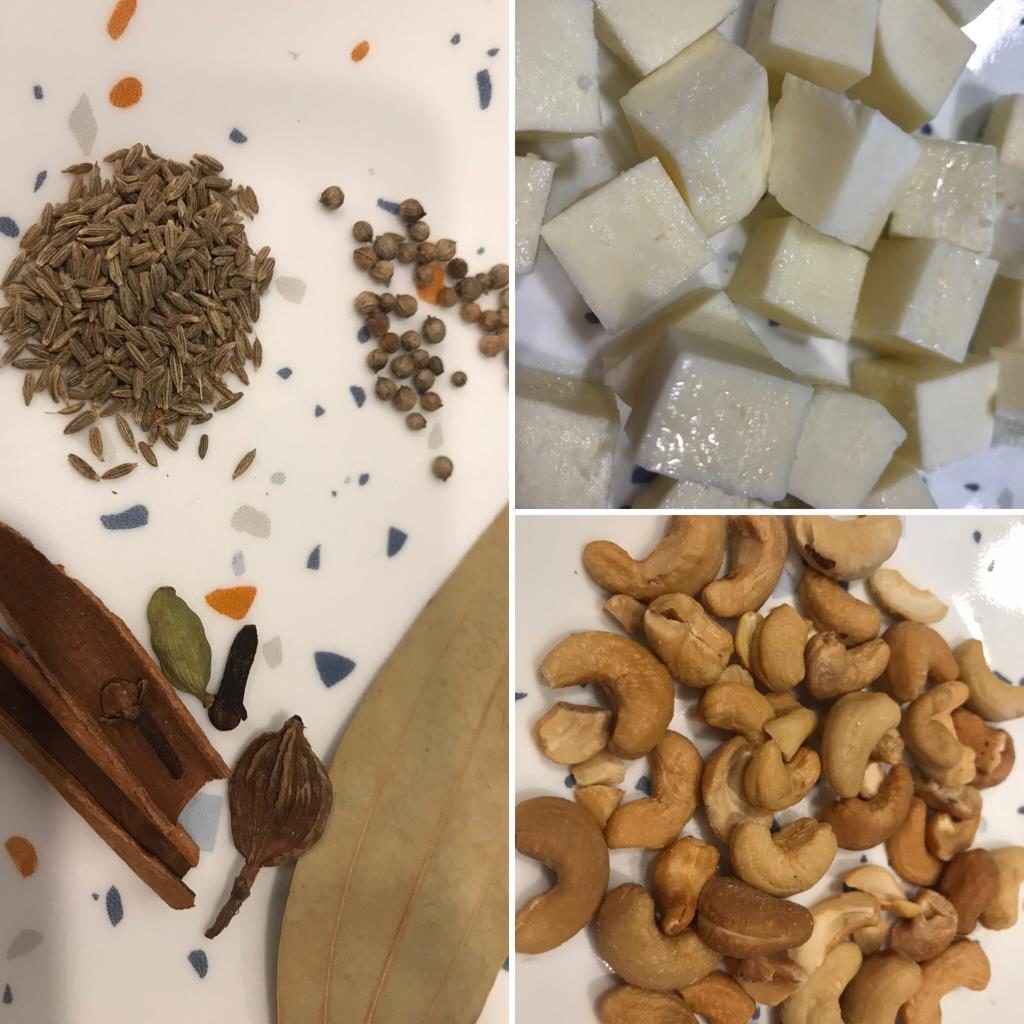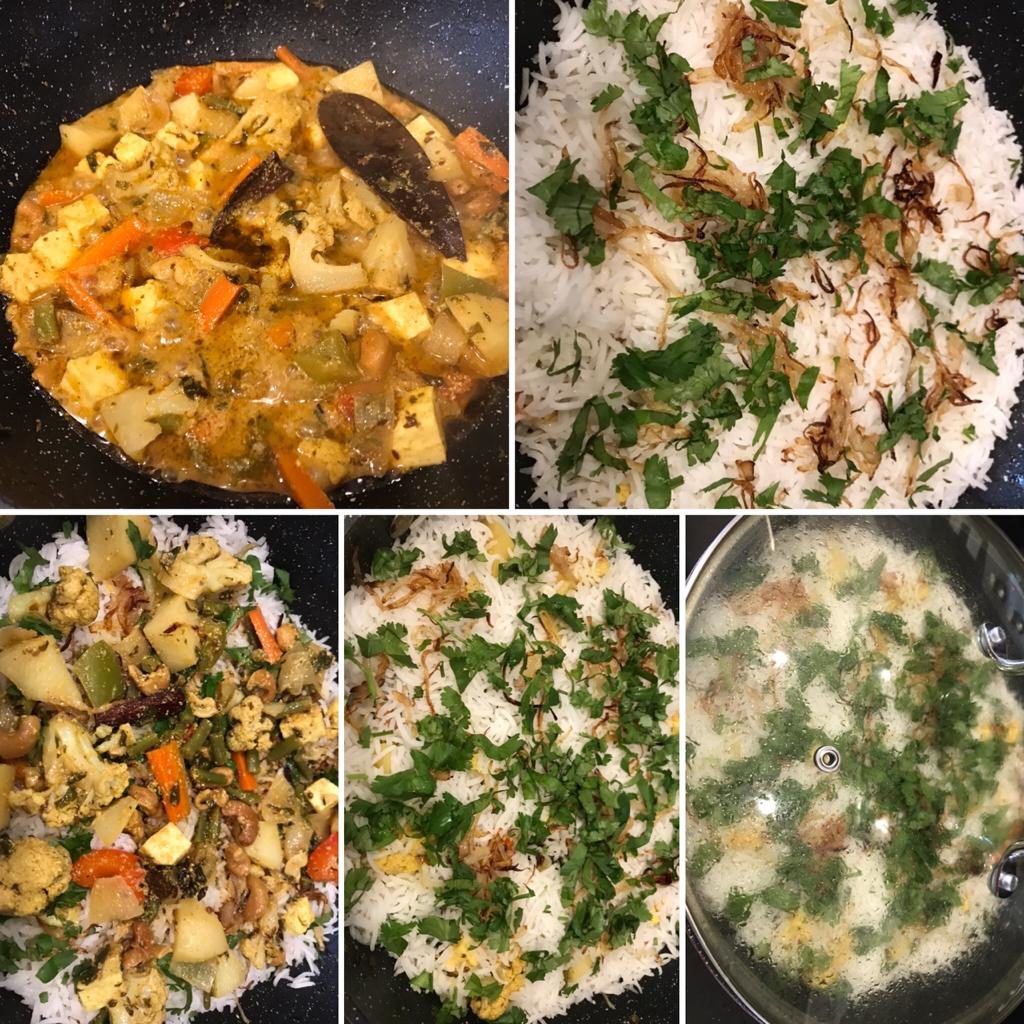 Now put 4 tablespoons of clarified butter in a pan, heat it on medium.
Then sizzle 1/2 tablespoon of cumin seeds and add all the whole spices like bay leaf, cinnamon sticks, cloves, green cardamom, black cardamom, coriander seeds and fry them for a minute. Here I used roasted cashews, so there's no need to fry them, but if you are using regular cashews then you should fry them along with the whole spices.
Now add 1 diced onion and saute it for a minute or until golden brown.
Then add marinated vegetables, 1/2 cup of yogurt and 1 ½ cup of water, mix them well.
Now cover them and cook them for 15 minutes or until they become softer on medium heat.
Next put half the vegetables (cooked) in a bowl and spread half of your cooked rice over it in a layer with a spatula.
Next spread 1 -2 tablespoons of deep fried onions as well as chopped cilantro over it.
Then spread the rest of your cooked vegetables over it in another layer.
After that put another half of your cooked rice and spread with a spatula.
Again spread the rest of the deep fried onions as well as chopped cilantro over it.
Then put 1-2 tablespoons of clarified butter over it.
Now cover it and cook it for 15 minutes on low heat. During this period, make sure that you will not open the lid and heat will be low.
After that, take it off the cook-top and let it sit for another 15 minutes without opening the lid.
Wow your restaurant style biryani is ready to eat. Serve it hot with salted yogurt and papadam.
Tangy Suggestions
You can add more vegetables of your choice to this dish.
This biryani will go with any type of curry. So if you welcome your guests with this biryani with curry it will feel very special to them.