Today, I am here with a very popular and delicious American breakfast recipe, "PANCAKES". Guys! Just look at the picture, they look yummm…. Usually people eat them with honey & butter, but I love to eat them with maple syrup. We eat this breakfast when we get bored with regular ones like flatbread, toasts or sandwiches, etc. Most pancakes contain eggs but my recipe doesn't contain egg. So there is good news for those who want to eat pancakes but they can't because of eggs. The taste and the texture of these egg-less pancakes are similar to those containing eggs. So now let's discuss how to make these fluffy, sweet, delicious pancakes…
Ingredients
1 cup white flour
1/2 cup milk
1/2 cup granulated sugar
2-3 drops vanilla extract
2-3 tablespoons vegetable oil
1 tablespoon baking powder
Honey / Maple Syrup
---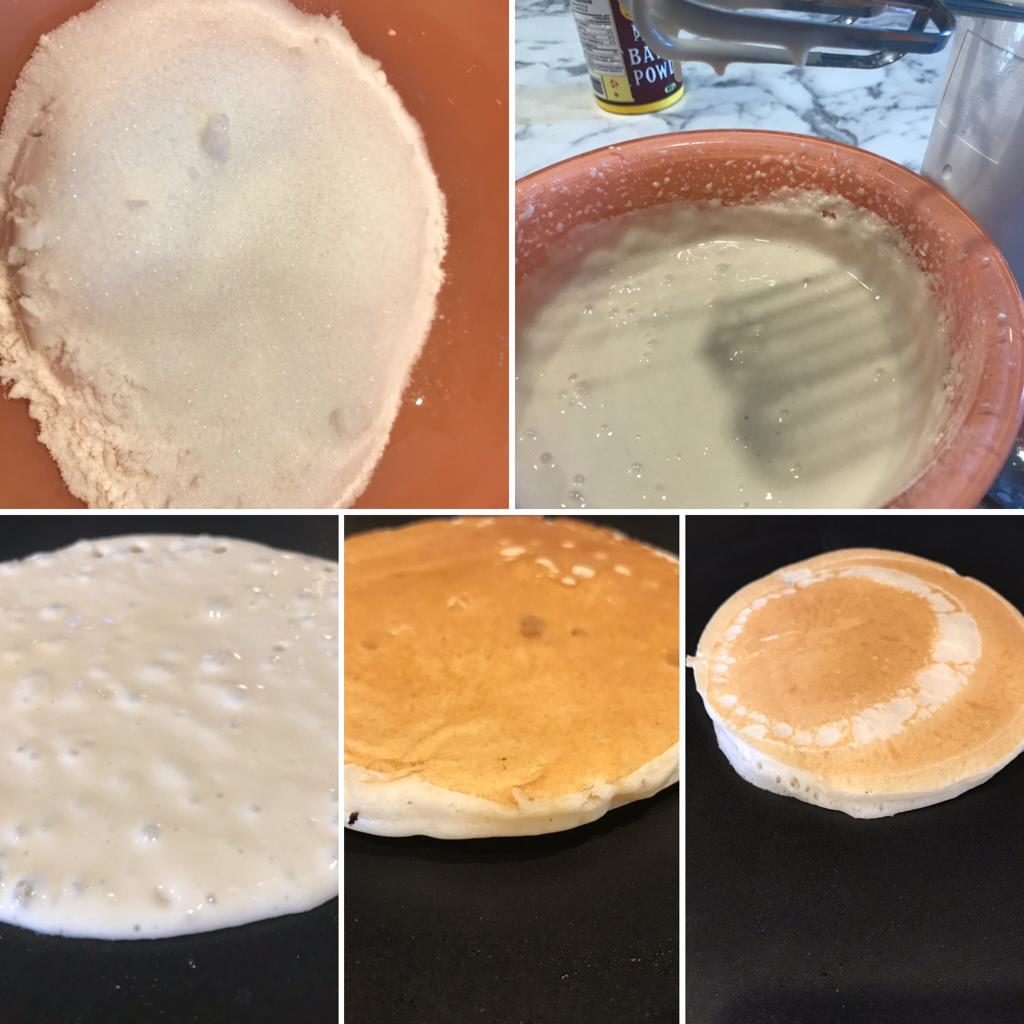 Cooking Steps
First put 1 cup of white flour in a mixing bowl, add sugar, baking powder, vanilla extract and oil and mix well with a spoon.
Then add milk and stir it well with a hand mixer on speed 2 for 6-7 minutes and make a batter.
Now cover it and let it sit for at least 15 minutes.
After that you'll see your batter will be very bubbly and fluffy. It means it is ready for making pancakes.
Next take a flat, thick, nonstick pan. Heat it on medium.
Pour 1/4 cup of batter into the hot pan.
Then hold the handle of the pan and start rotating carefully and in this way you can spread the mixture.
Cook for a minute and then flip over with a spatula.
Cook both sides until they turn golden brown.
Here you should notice that it becomes more fluffy.
Your delicious pancakes are ready to serve. Spread some maple syrup or honey over it and serve them with butter….
Suggestions
You can add 2 tablespoons of cocoa powder to the batter and make chocolate pancakes for your kids.
You can use whole wheat flour instead of white flour and make them more healthy.