Pizza is an Italian dish. It has evolved from a famous flatbread dish of Naples, Italy. It is usually prepared with pizza sauce and mozzarella cheese including different toppings on leavened flatbread. However, as this dish has traveled various countries, one can find different pizza flavors. In restaurants pizza is baked in different ways e.g. in an oven with stone bricks above the heat source, in a conveyor belt oven, in an electric deck oven or a wood/coal fired brick oven. However, at home, it can be baked in a regular oven.
Tangy Ingredients
2 cups all-purpose flour
1 1/2 tablespoons instant yeast
1 tablespoon granulated sugar
4-5 tablespoons vegetable oil
1/2 tablespoon salt
1/2 tablespoon roasted garlic powder
1/2 tablespoon red chili flakes
1 cup of cornmeal
1 cup of pizza sauce
1 cup of grated mozzarella cheese
1 cup of chopped green, red and yellow pepper
1 sliced onion
1 chopped tomato
1 chopped jalapeno
Italian herbs
---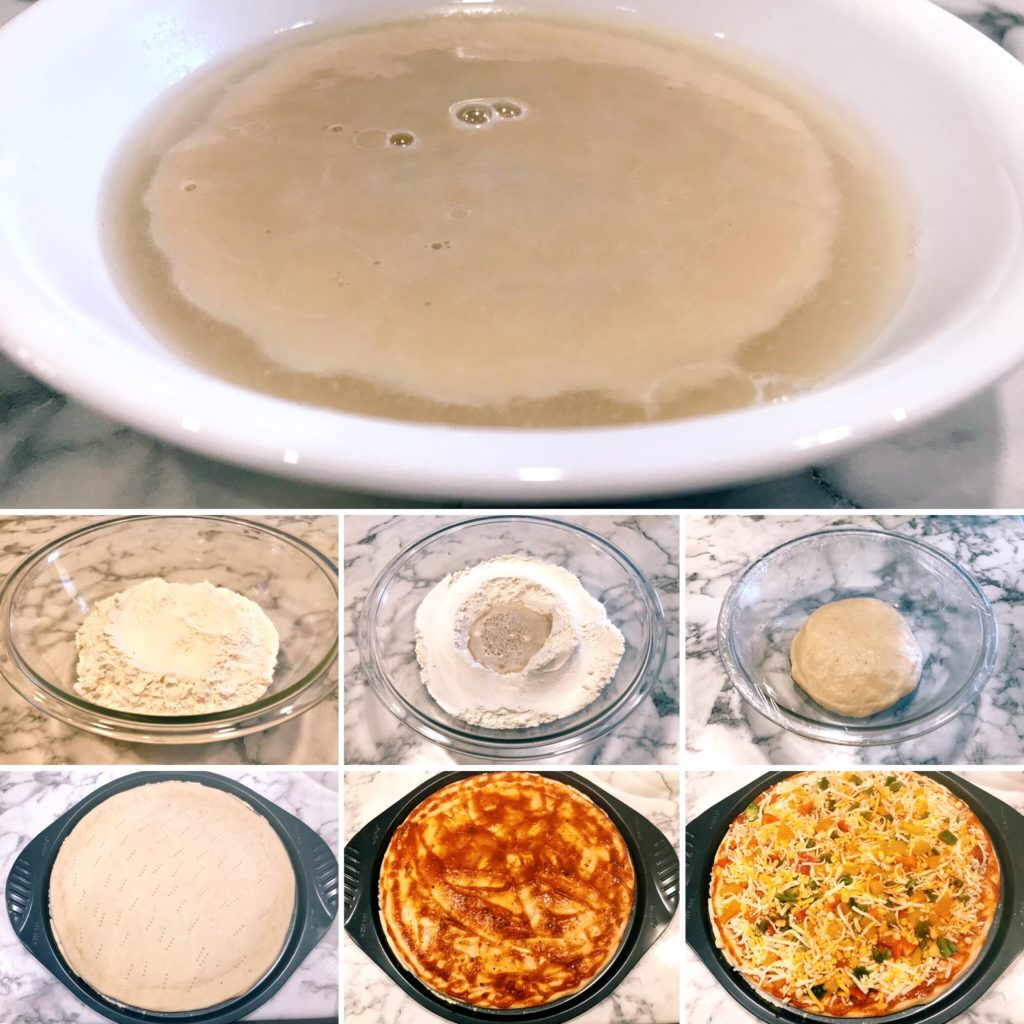 Cooking Steps
First add instant yeast, sugar and 1 tablespoon of oil into 1/2 cup of warm water.
Mix well and keep aside, covered, for 10 minutes.
Put 2 cups of all-purpose flour into a big mixing bowl and make a well in the middle of the flour.
Then put the yeast mix (prepared in step 1) in the well and add salt, roasted garlic powder and 4 tablespoons of oil.
Mix it well and make a soft dough by adding Luke warm water in batches.
Knead up to 15 minutes for the best results.
Now let it sit, covered, on your kitchen counter for 3 hours.
After 3 hours, the volume of dough should be double. Cut it into two portions and make two big balls. This dough is enough to bake two pizzas.
Take one ball of dough and sprinkle literally with cornmeal. Make a round shaped flatbread with your hands or you can use a rolling pin. The diameter should be 14″-16″.
Transfer to a non-stick baking tray and prick with a fork.
Spread pizza sauce over it with the help of a spatula.
Then sprinkle mozzarella cheese and veggies over it, pat it down gently, and sprinkle some mozzarella cheese on top.
Bake at 375-degree Fahrenheit in preheated oven for 18 minutes. You can bake 2 pizzas together.
Once ready, cut it into 8 pieces with a pizza cutter and sprinkle some herbs as well as chili flakes over and enjoy with a coke.
Tangy Suggestions
Always use instant instead of traditional yeast.
You should place your dough into a switched off oven or microwave to rise.
You can serve the pizza with potato wedges, fries or potato chips.