Pasta is a favorite dish among kids as well as grownups. We can do many experiments with pasta recipes and create different flavors e.g. red sauce pasta, white sauce pasta, macaroni pasta, penne pasta and creamy pasta. We will prepare a tangy flavored penne pasta today. I am using some sauces, vegetables and spices that will give a tangy flavor to this dish. So let's make a yummy bite to eat :
Tangy Ingredients
3 cups dry penne pasta
1 small sliced onion
1 cup chopped peppers (green, red, yellow)
1/2 cup sweet corn
1 small sliced tomato
1 tablespoon salt
1/2 tablespoon red chili flakes
3 tablespoons white pasta sauce
2 tablespoons tomato ketchup
2 tablespoons red chili sauce
1 tablespoon ginger garlic paste
4 tablespoons vegetable oil
---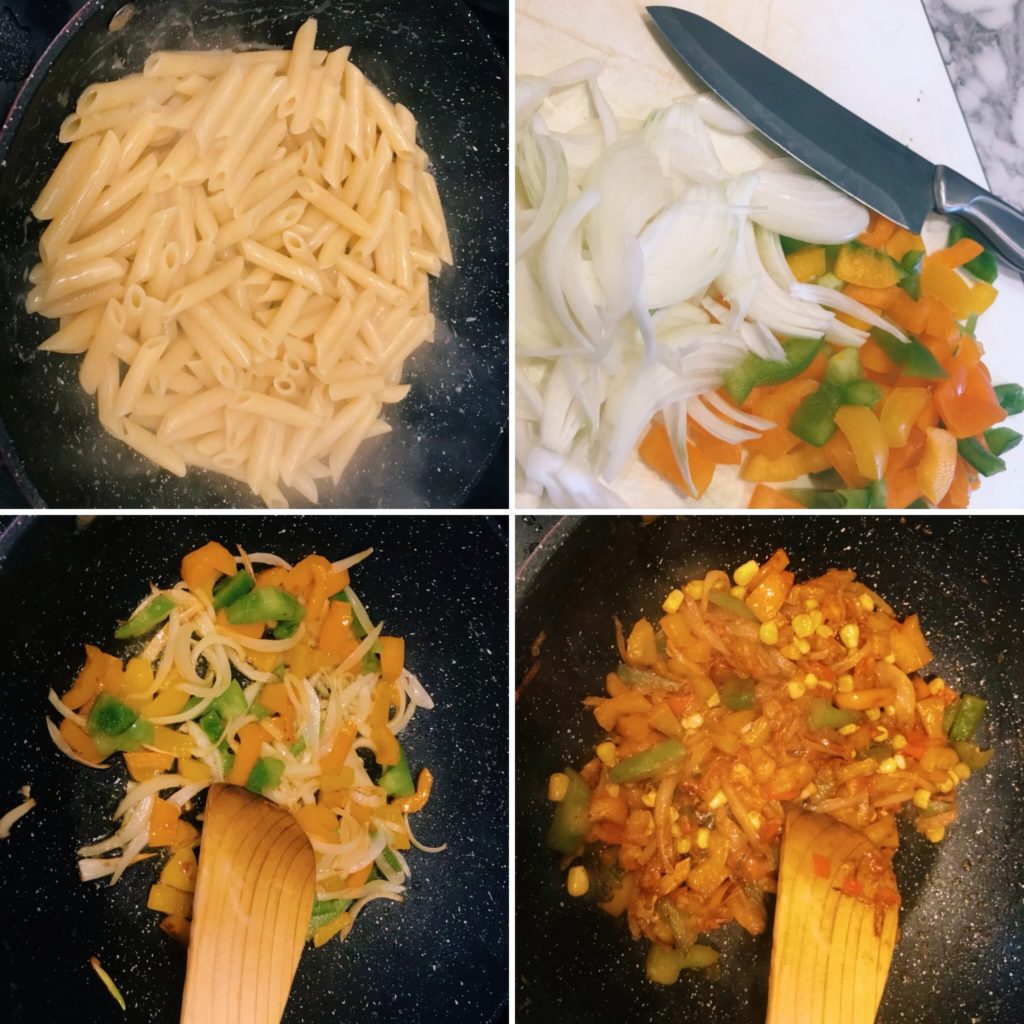 Cooking Steps
First boil water in a deep pan and add 1 tablespoon oil as well as 1/2 tablespoon salt. Then add dry pasta, cover, and boil for 10 minutes, stirring occasionally.
Check your pasta after 10 minutes, if it is cooked then drain and set aside.
Now put 3 tablespoons oil into a pan and heat it for a few seconds. Then saute the sliced onion and diced peppers with the ginger garlic paste for a few minutes.
After that, add the chopped tomato and the 1/2 tablespoon of salt and mix well.
When the tomato is soft add the sweet corn as well as the chili flakes.
After a few minutes when all the ingredients are mixed together then add the white pasta sauce and red chili sauce as well as the tomato ketchup.
Now add the boiled pasta and stir it all together.
Now our yummy tangy pasta is ready to eat. Serve it hot.
Tangy Suggestions
You should try this tangy penne pasta with french garlic bread and potato chips. It would be yummy…..