Everyone has a different method of making chickpea curry. Some people like the yellow colour of it, some like darker, some people like thick curry and some like it more fluidy. So there are many versions of it. I want to share one of my recipes for chickpea curry. Actually,here is a suggestion, if you are going to eat chickpeas with rice, then the curry should be liquidy, if you are eating it with bhatura or puri, then it should be drier or thicker. Today, I am going to eat it with bhatura, so I am making thicker and darker chickpea curry. Let's make it, here we go….
Tangy Ingredients
2 cups chickpeas
2 onions
2 tomatoes
1 green chili
1 bulb of garlic
1 small piece of ginger
2 tablespoons salt
1 tablespoon red chili powder
1 tablespoon turmeric powder
1 tablespoon garam masala
1/2 tablespoon roasted cumin powder
1 tablespoon cumin seeds
1/4 tablespoon coriander seeds
1/4 tablespoon fennel seeds
1/4 tablespoon carom seeds
1/2 tablespoon pomegranate powder
1/2 tablespoon fenugreek leaves (crushed by hand)
3-4 tablespoons vegetable oil
---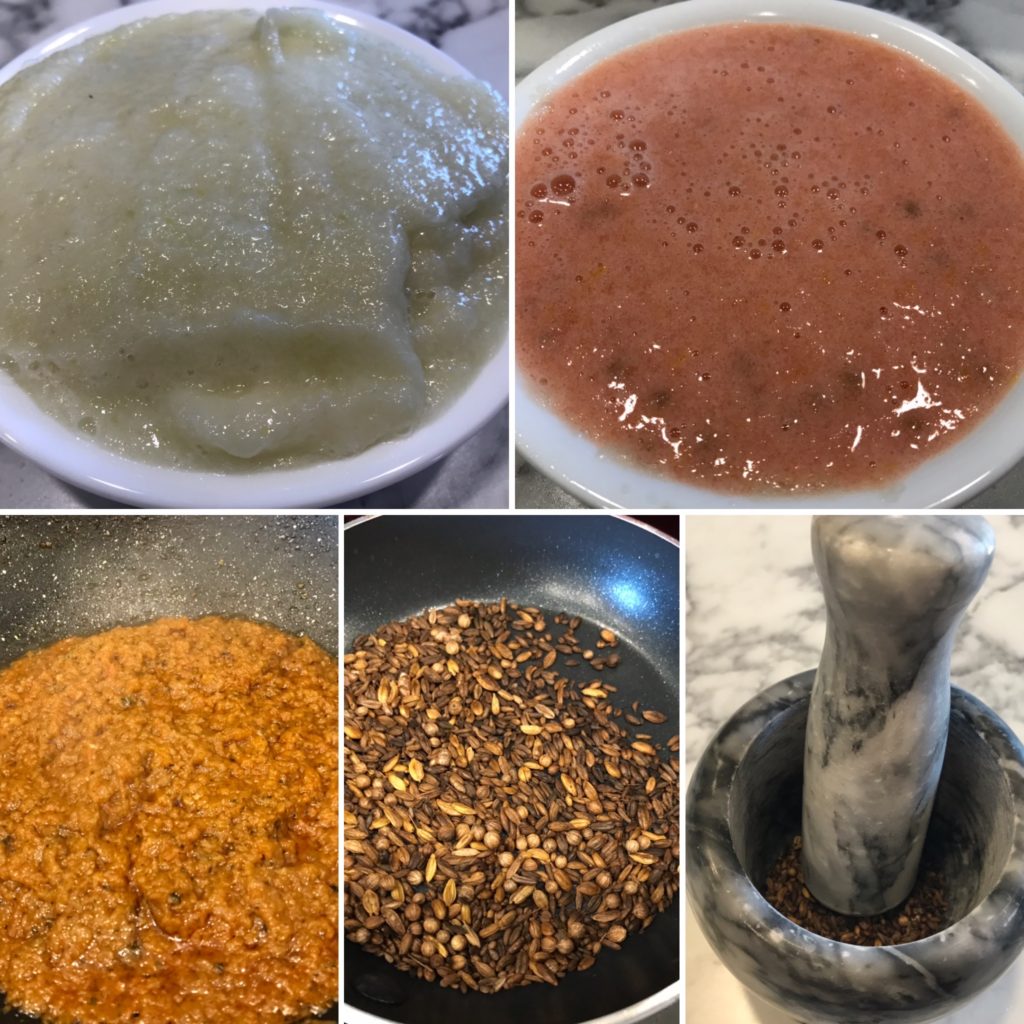 Cooking Steps
First soak chickpeas in water overnight or minimum 4-5 hours. After soaking, wash them well.
Then cook for 15 minutes in a pressure cooker or 10-12 minutes in an instant pot. Add 1 tea bag before cooking. Due to this tea bag, the colour of the chickpeas will be darker and it will look delicious.
Next make onion & garlic paste in a blender.
Then put 4 tablespoons of vegetable oil in a saucepan, heat it, sizzle ½ tablespoon of cumin seeds until they turn golden brown.
Now add onion & garlic paste. Then add 2 tablespoons of salt and sauté it until it turns golden brown in colour. It takes 5-7 minutes. At this point you will see the oil separate from the onion paste.
After that, add the tomato paste and sauté it for another 5 minutes.
Then add all the spices except salt which was already added in step 5. Add the red chilli powder, turmeric powder, garam masala, chana masala and dry fenugreek leaves. Sauté for 1 minute.
Now add the cooked chickpeas as well as 2 cups of water. Have it on medium heat.
Now we roast the carom seeds,cumin seeds, coriander seeds, fennel seeds together in a pan and crush in a mortar & pestle to make a powder.
Then add this powder to the chickpeas and mix well.
Now roast the cumin powder as well as the pomegranate powder together in a pan on high heat until dark brown and add it to the chickpea curry.
Cover and cook for 15 minutes on medium heat.
Your yum chickpea curry is ready to eat. Serve it hot with deep fried bread (bhatura or puri)
Tangy Suggestions
If you are celebrating any occasion like a B'day party or anniversary then you should make this chickpea curry with bhaturas and you can impress everyone with your cooking.