Pav bhaji is a famous fast food in India. It's very delicious and consists of a thick vegetable curry with different spices. It is a buttery dish served with dinner rolls. Here's the recipe for this tangy pav bhaji….
Tangy Ingredients
4 potatoes
3-4 cauliflower florets
1 carrot
1/2 cup of raw / frozen peas
1 chopped onion
4 chopped tomatoes
1 chopped green pepper
1 cup of chopped cilantro
2 tablespoons vegetable oil
1 tablespoon ginger garlic paste
2 tablespoons salt
½ tablespoon red chili powder
½ tablespoon garam masala
½ tablespoon turmeric powder
3 tablespoons pav bhaji masala
2 tablespoons red paprika powder
½ cup butter
1 lemon
1 pack of dinner rolls
---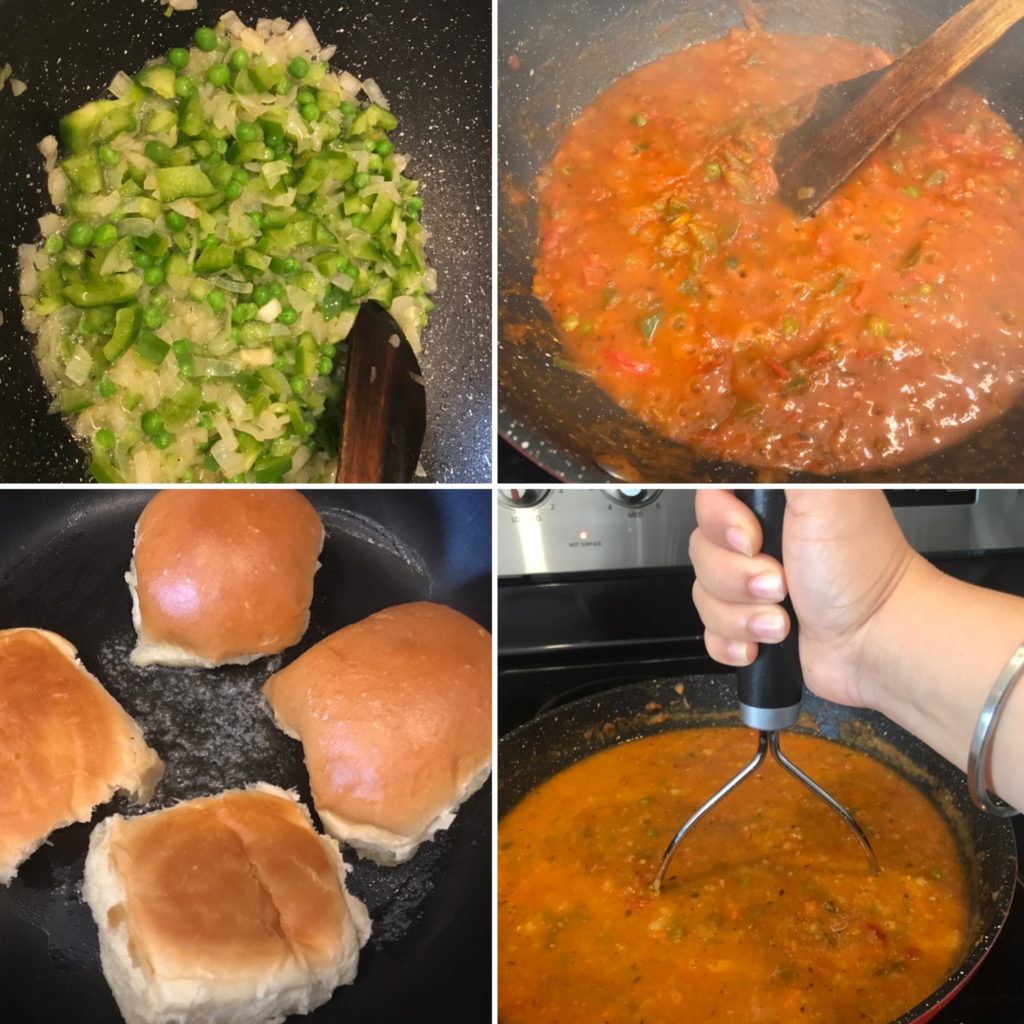 Cooking Steps
First take the peeled potatoes, cauliflower florets, diced carrot and peas (if you use raw peas) together in a pressure cooker then add 4 cups of water and boil until 4 whistles. (Or boil in a covered pot for 15 minutes.)
Strain the boiled vegetables, then mash them with a potato masher.
Now take 2 tablespoons oil and 2 tablespoons butter in a saucepan, heat it, then add chopped onion and saute it for 2 minutes.
Next add chopped green pepper and ginger garlic paste, saute for 2 minutes.
Then add chopped tomatoes as well as salt, stir and saute for next 2 minutes.
Now add the rest of the spices like red chili powder, turmeric powder, garam masala, pav bhaji masala, red paprika powder and mix altogether. At this step you should add 1/2 cup of water and boil for 1 minute.
Next add boiled mashed vegetables, mix well and add 2 cups of water.
After this mash it continuously for 15 minutes with a potato masher.
Then put cilantro in it and add ¼ cup of butter, keep stirring for the next 5 minutes.
Now take another nonstick pan, heat it on medium.
Cut the dinner rolls longitudinally at the center with a bread knife.
Spread butter on the dinner rolls and toast them for 1 minute on both sides.
Garnish your bhaji (curry) with cilantro and butter.
Serve it hot with buttery & toasted dinner rolls.
Tangy Suggestions
Squeezing the lemon over the curry gives more of a tangy flavor.
Serve with chopped onion and get the feeling of street food stalls.