Potato is everyone's favorite vegetable. Today I am going to make your favorite potato more favorite by representing my mom's recipe. Actually last weekend, mom made potato curry, which was so delicious and she gave me her recipe. Today I tried it and it was yummy. My husband as well as my daughter loved it. So I want to share my mom's recipe with you and I tell you guys, you will have to try it. Let's make it…..
Tangy Ingredients
4 medium sized potatoes
2 sliced onions
2 chopped tomatoes
6-7 chopped garlic cloves
3 tablespoons yogurt
1 ½ tablespoon salt
1/2 tablespoon red chili powder
1/2 tablespoon garam masala
1/2 tablespoon turmeric powder
1/2 tablespoon roasted cumin powder
1/2 tablespoon dry mango powder
1/2 tablespoon fennel seeds
1/2 tablespoon coriander seeds
1 tablespoon dry fenugreek leaves (crushed by hand)
1 tablespoon ginger paste
5-6 tablespoons mustard oil
---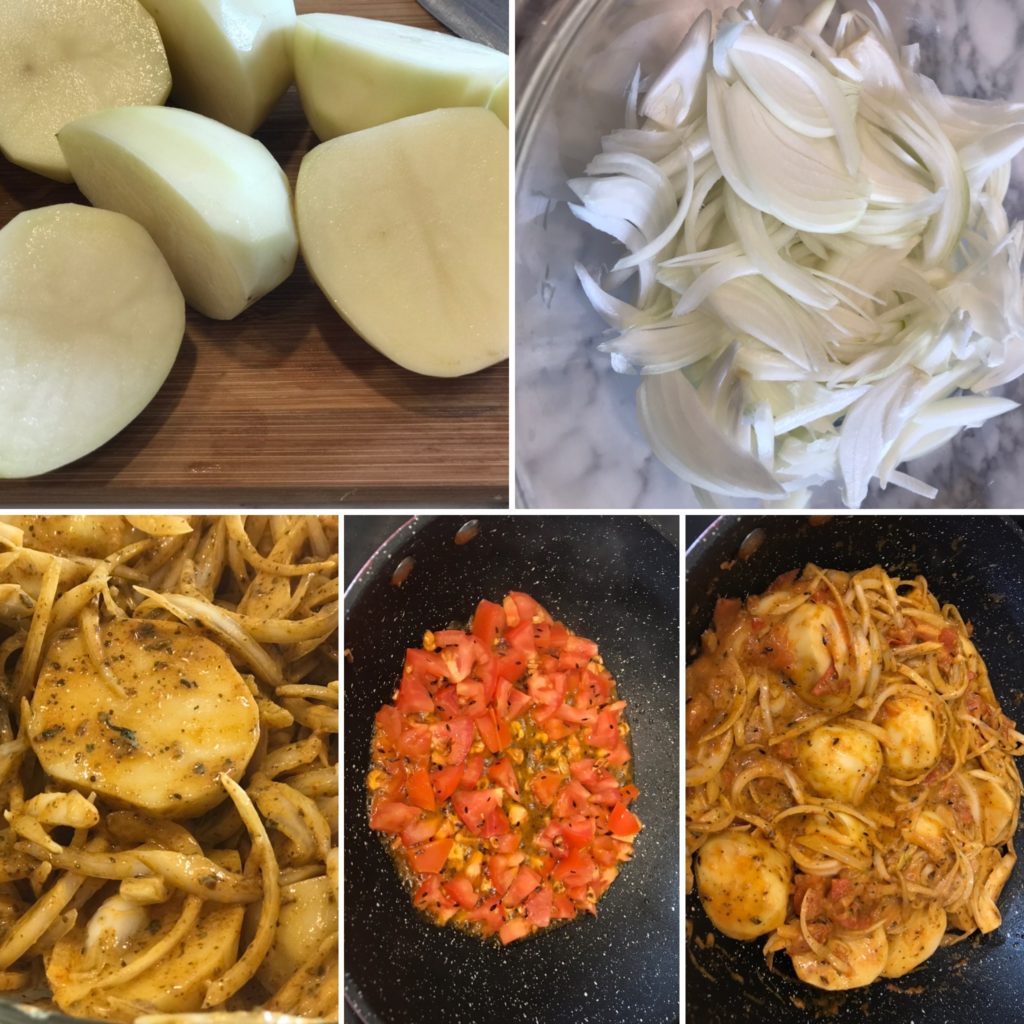 Cooking Steps
First roast the fennel and coriander seeds together in a pan for a minute, then crush in a mortar & pestle.
Then make a TANGY MASALA by mixing all the spices together like red chili powder, salt, garam masala, turmeric powder, dry mango powder, roasted cumin powder, dry fenugreek leaves, roasted fennel & coriander.
Next cut each potato into two pieces as shown in the picture.
Then in a mixing bowl mix TANGY MASALA, yogurt and ginger paste with potatoes.
Now add 2 tablespoons of HOT mustard oil in it and mix it well with a spatula. ( if you don't have mustard oil then you can use another vegetable oil as well.)
Then marinate it in the refrigerator for 30 minutes.
Next put 2 tablespoons of mustard oil in a saucepan and add the chopped garlic, saute for a few seconds.
Then add the chopped tomatoes and saute for 2 minutes.
After that add marinated potatoes and mix together..
Then add 1 cup of water, cover it & cook it for 45 minutes on medium heat..
Add more water if necessary, while cooking.
Stir every 5 minutes and cover it during cooking.
After 45 minutes switch off the heat and keep it covered for another 10 minutes.
Your tangy potato curry is ready to eat. Enjoy it with flatbread.
Tangy Suggestions
You should try these tangy potatoes with deep fried breads (poori) for breakfast, it would be the yummiest breakfast.