Nowadays, most kids don't want to eat vegetables. They would like to eat junk food which is not good for their health. Their mammas worry about their eating habits. I have two daughters, one is 6 years old and the second is 6 months old. My older one doesn't want to eat vegetables, so I am always trying to make something special for her according to her taste, eg. She likes to eat sweet pancakes, made with white flour. So I created a new recipe for her which also looks like pancakes but it is different and healthy. This recipe is full of veggies and very delicious. My daughter loves these super soft vegetable pancakes. Every mom has to try this recipe for her kids, let's have a look…
Tangy Ingredients
1 cup of gram flour (chickpea flour)
1 chopped onion
1 cup of chopped green pepper & red pepper
1 chopped tomato
1/2 cup of chopped cilantro
1 chopped green chili
1/2 tablespoon ginger garlic paste
1 tablespoon salt
1/2 tablespoon red chili powder
1/4 tablespoon turmeric powder
1/4 tablespoon garam masala
1/4 tablespoon dry mango powder
1/2 tablespoon dry fenugreek leaves (crushed by hand)
1 tablespoon baking soda
4-5 tablespoons vegetable oil
---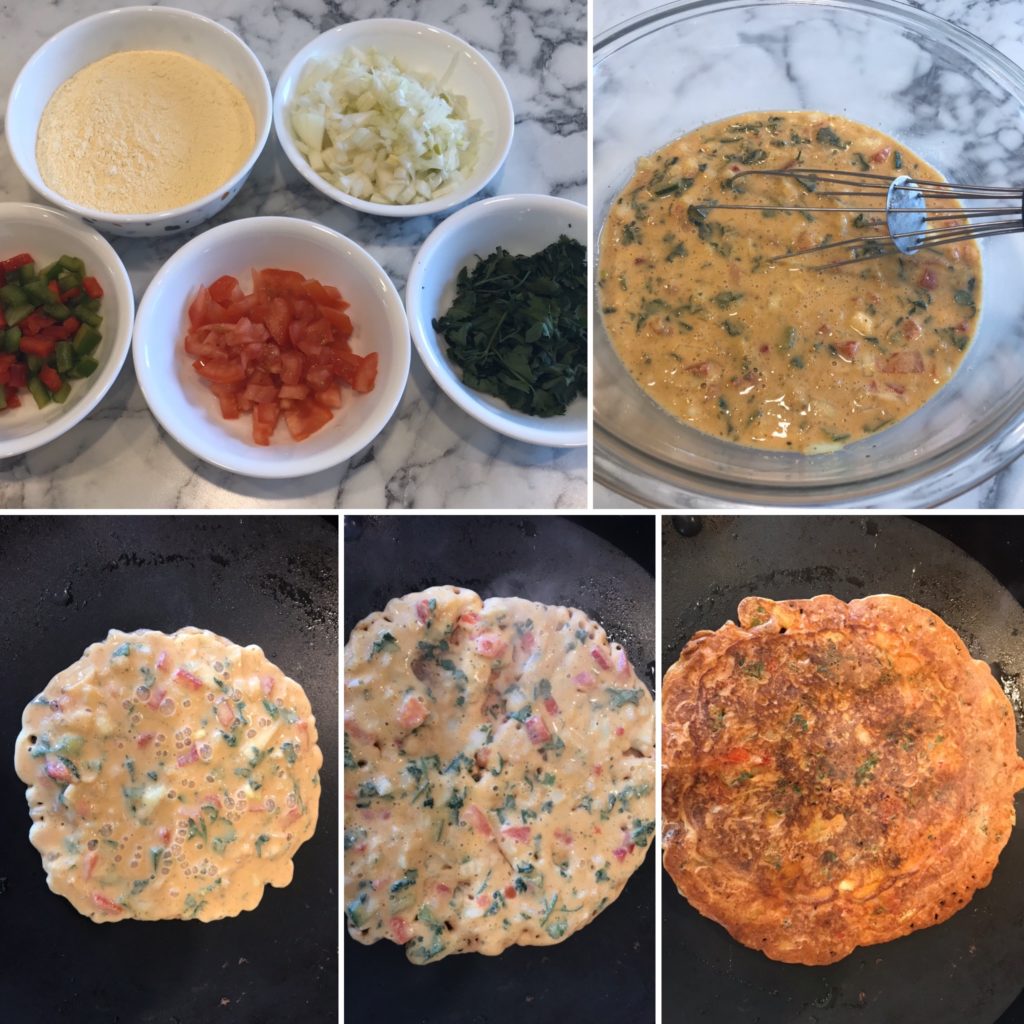 Cooking Steps
First, to make the batter, you should put the gram flour in a mixing bowl, add all the spices like salt, red chili powder, garam masala, turmeric powder, dry mango powder and mix it well.
Next add 1 cup of water in batches and stir it continuously with a whisk. There should be no lumps in it.
Then add 1 tablespoon of baking soda, mix it well for 2-3 minutes continuously. That makes your pancakes more fluffy.
Now add all the veggies like onion,tomato, green pepper, red pepper,cilantro, green chili and dry fenugreek leaves. Here you can add more of your favourite veggies.
Mix all together with a whisk and your batter is ready for making pancakes.
Now take a heavy non stick flat frying pan and heat it.
Then put 1/2 cup of batter into this hot pan. Your cooktop should be on medium heat.
After 2 seconds, spread it in a round shape with a spoon.
Now spread 1 tablespoon of oil over the edges and wait for 30 seconds.
Then flip it carefully with a spatula and cook it for the next 30 seconds. In this way, flip and cook it until both sides turn golden brown.
You can make 5-6 pancakes from this batter.
Sprinkle cottage cheese over them and serve hot with tamarind sauce.
Tangy Suggestions
It's a very quick recipe and you should include them in your kid's lunch box.