There is a story behind this recipe… Last night my husband wanted to go outside for dinner but that was not possible because it was too late and all the restaurants were closed.Then I prepared a tangy dish with rice, vegetables and some spices. Due to its tangy flavor, I named it TANGY VEGETABLE PULAO and served it with yogurt. My husband loved it and that was awesome. So I would like to share my tangy recipe with you….
Tangy Ingredients
1 cup Basmati Rice
1 chopped onion
1 chopped tomato
2 cups chopped green, red and yellow pepper
1/2 cup green peas
1 chopped boiled potato
1 tablespoon chopped green chili
1 tablespoon cumin seeds
2 tablespoons salt
1/2 tablespoon red chili powder
1/2 tablespoon turmeric powder
1/2 tablespoon garam masala
2 tablespoons pav bhaji masala
4 tablespoons vegetable oil
1 tablespoon ginger garlic paste
1 tablespoon vinegar
---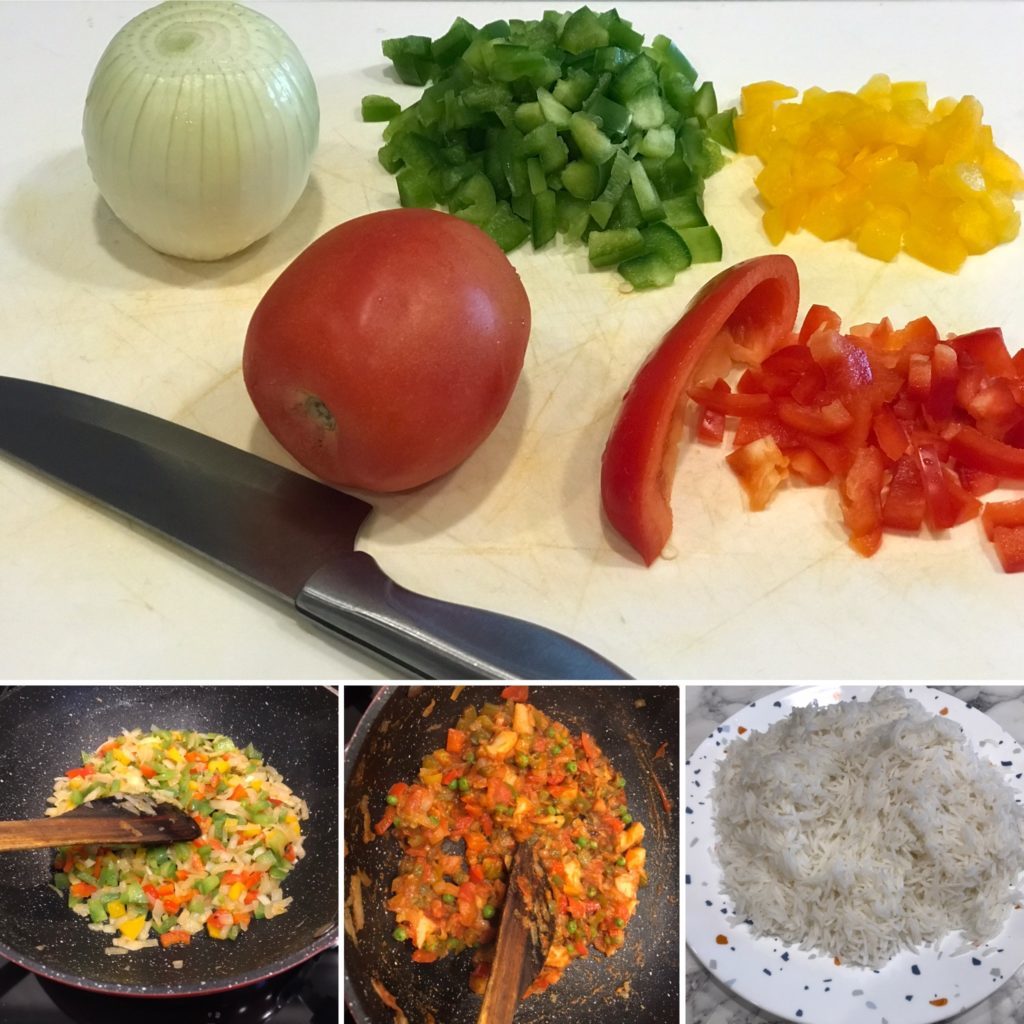 Cooking Steps
First wash rice 2-3 times and soak for 15 minutes. Then strain the rice and discard the water.
Boil 5 cups of water in a saucepan. When it starts to boil, add 1 tablespoon of salt, 1 tablespoon of oil and 1 tablespoon of vinegar to the water and mix well. Add the rice and boil it for 6 minutes.
Strain the boiled rice, put on a plate and set aside.
Heat 4 tablespoons of oil in a wok. Sizzle cumin seeds and then the chopped green chili in it.
Fry the ginger garlic paste for 1 minute (on low heat).
Then saute all chopped veggies together for 5 minutes (on medium heat).
Now add the chopped tomato as well as 1 tablespoon salt (which helps to soften the tomatoes).
At this time add all the spices like red chili powder, turmeric powder, garam masala and pav bhaji masala (the pav bhaji masala gives a different tangy flavor to this recipe).
Lastly add cooked rice and mix it well.
Serve it hot with yogurt.
Tangy Suggestions
You should try papadum with this tangy pulao. It would be like heaven…